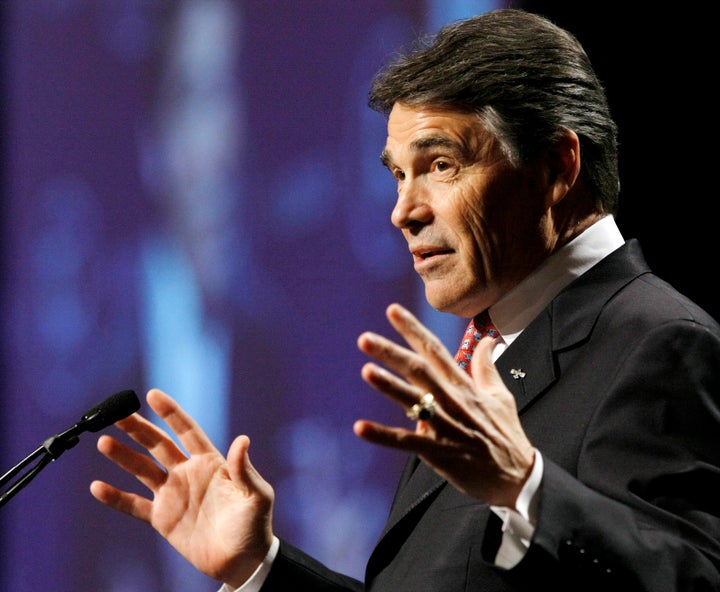 WASHINGTON -- The not-yet-announced presidential campaign of Gov. Rick Perry (R-Texas) already has a small bit of fundraising heft behind it thanks to a Super PAC set up by supporters.
The Americans for Rick Perry committee raised $193,000 over the span of eight days in June, according to the group's first disclosure filing with the Federal Election Commission (FEC) on Friday. The group has stated that it raised an additional $207,000 in July.
The group is organized as an independent expenditure committee, commonly known as a Super PAC, and can accept unlimited amounts of money from individuals, corporations and unions. It is also barred from coordinating with Perry in any way.
The vast majority of the money accounted for in the group's disclosure report comes from Texas billionaire Harold Simmons. Simmons contributed $100,000 to the committee at the end of June. Simmons is a major Republican donor, having given millions to Republican candidates and political committees since the 1980s. In 2010, Simmons and his wife contributed $600,000 to Perry's gubernatorial reelection campaign.
This isn't Simmons' first foray into the 2012 Republican primary -- although it is his most definitive. Betraying a lack of support for just one candidate, Simmons and his wife have already donated to the presidential campaigns of Mitt Romney, Tim Pawlenty and Newt Gingrich. This hefty sum to Perry's nascent campaign may indicate, however, that Simmons, who bundled contributions for the 2008 presidential run of Sen. John McCain (R-Ariz.), has a favorite.
The company Dealer Computer Services, which is a subsidiary of The Reynolds and Reynolds Company, donated $50,000 to the committee. The company is headed by Robert Brockman, who donated $50,000 to Perry's 2010 reelection campaign.
Other companies donating include Withers Energy Group with a $25,000 contribution, and the private equity firm Wareing & Company. Withers is owned by Hammersmith Financial Corporation, which is led by John Speer, who donated $25,000 to Perry's 2010 campaign. Wareing is led by Peter Wareing, who gave $16,000 to Perry's reelection bid.
Fundraising success has led the group to expand over recent days. Americans for Rick Perry chairman Bob Schuman announced expansion of committee staff in both Washington, D.C., and the early primary state of Iowa as well as the hiring of long-time Perry supporter Nick Crain as finance director.
The Americans for Rick Perry committee represents the first time that a Super PAC has been used by supporters for a nascent presidential campaign.
Super PACs were created by the FEC after the courts ruled in multiple cases, including the Citizens United Supreme Court decision, that political committees that only spent money on independent expenditures and did not directly contribute to candidates could receive unlimited contributions from individuals, corporations and unions. Other political committees -- those used by the other Republican presidential candidates prior to their official entries into the race, for example -- have contribution limits of $5,000 per donor.
Registering the committee as a Super PAC allows Perry supporters to mimic the fundraising landscape in the governor's home state. Texas does not have contribution limits for campaign contributions for state-level races. This has allowed local billionaires to spend huge sums to help elect their favored candidates.
In 2010, Perry raised more than $43 million when he sought a third term as governor. The majority of that, $22 million, came from donations that exceeded the federal maximum contribution limit to a candidate of $5,000 -- $2,500 for a primary and general election each.
Americans for Rick Perry can tap that pool of donors for unlimited amounts of money before Perry makes a decision on whether to enter the race.
Calling all HuffPost superfans!
Sign up for membership to become a founding member and help shape HuffPost's next chapter