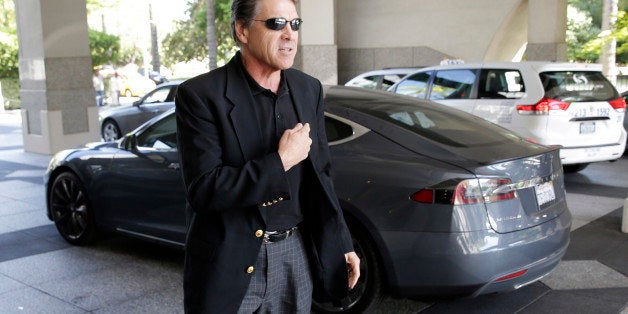 Texas Gov. Rick Perry's charms were apparently lost on electric carmaker Tesla.
Despite Perry's shoddy record on clean energy, the former Republican presidential candidate desperately wanted Tesla to build its $5 billion battery factory in the Lone Star State. Perry personally led negotiations with Tesla over its so-called Gigafactory, which is expected to create 6,500 jobs. The governor even drove a Tesla Model S through California's state capital in June, in a public stunt that the Los Angeles Times found tantamount to stalking.
"Tesla's a big project," Perry said during an interview with "Opening Bell" on Fox Business News in March. "I think the cachet of being able to say we put that manufacturing facility in our state is hard to pass up."
All for naught. On Thursday, Tesla settled on Nevada as the location for its $5 billion 'Gigafactory,' ending a months-long contest with Texas, Arizona, New Mexico and Tesla's home state of California.
"It's disappointing; he's got to face it as a disappointment," Peter Cowen, the managing director of technology investment banking firm Clear Capital Advisors, told The Huffington Post on Friday. "This one was a high-stakes battle and he lost."
Part of the problem for Perry was a Texas law that bans car manufacturers from selling directly to customers. Because Tesla doesn't franchise its dealerships, it can't sell cars in the state. Though Perry said in March he wanted to lift the ban, it still proved to be a turn-off for the carmaker.
The ban "doesn't make us feel good as we look to build a plant" in Texas, Diarmuid O'Connell, vice president of business development for Tesla, told The Huffington Post in June. O'Connell said economics would ultimately sway the company's decision.
A Tesla spokeswoman did not respond to a question about whether the continued sales ban factored into its decision, instead forwarding along quotes from CEO Elon Musk's press conference in Carson City, Nevada, on Thursday.
Perry had cause for hope. Earlier this year, he convinced Toyota to move its headquarters from California to suburban Dallas. Texas has a state Enterprise Fund, established by Perry in 2003, to serve as a "deal-closing" coffer from which officials can draw to bolster Texas's business bids in interstate competitions. To boot, Texas has no corporate income tax.
Texas residents may have lucked out, as added incentives from the state could have ended up costing taxpayers. As it was, Texas was offering a tax package worth between $800 million and $900 million, according to the Austin American-Statesman. Nevada is coughing up $1.3 billion to seal its deal with the carmaker.
A spokesman for Perry's office did not immediately respond to a call requesting comment.
Why Tesla picked Nevada is not totally clear. Musk said the reasons went beyond money.
"This was not the biggest incentive package, it wasn't just about the incentives," Musk said at the press conference. "What the people of Nevada have created is a state where you can be very agile, where you can move quickly and get things done."
That may mean geography worked in Nevada's favor. The ideal location for the company was probably California: It's Tesla's biggest market and fairly close to western Canada, where Tesla may soon begin getting some of its raw materials, according to Carter Driscoll, a senior analyst at the investment bank MLV & Co who covers Tesla.
The Golden State wasn't able to come up with an incentives packages on deadline, however. So neighboring Nevada may have proved the next best thing. Plus, there were those massive tax breaks. Perry can't win 'em all.
Related
Popular in the Community