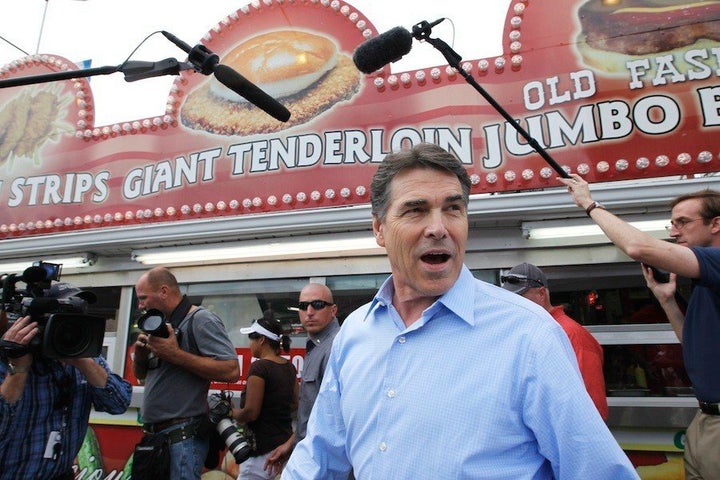 NEW YORK -- While Texas Gov. Rick Perry has grabbed headlines (and the spotlight) from his Republican rivals all week, members of the Texas press corps say they aren't shocked by the fiery campaign trail rhetoric getting big play in the national media.
"What you're seeing now is effectively who we've seen all these years," said Texas Tribune editor-in-chief Evan Smith. "He's not dropping more g's for effect. This is not a cowboy shtick he's putting on display for a point of contrast against Romney."
Of course, what plays in a "blood red state" like Texas -- to borrow Smith's description -- might not sway voters across the country. And in interviews with The Huffington Post, journalists questioned whether Perry's state-wide media playbook, which included avoiding newspaper editorial boards, will work as well in a national race.
So far, Smith said he has been impressed with Perry's national media roll-out, recently joking that the Texas governor was winning "the Politico primary." A lot can change as reporters dig into Perry's record, but at this point, Smith said "the nomination is his to lose."
Dave Mann, executive editor of the Texas Observer, also said Perry's first days on the trail haven't been out-of character, considering that "he's made some rather outlandish comments in the past to get his point across."
"Even if the Bernanke line was a slip up, the Perry people won't back down," Mann continued, referring to Tuesday's suggestion that Fed Chair Ben Bernanke could be almost guilty of treason. "They're not going to apologize or show weakness. Of all the potentially controversial things Perry's said and done over the years, I can remember only one real apology -- when he said 'Adios, Mofo' to a Houston television reporter."
The "Mofo" comment notwithstanding, Mann and several Texas reporters told The Huffington Post that Perry doesn't have a hostile relationship with reporters. He'll give interviews on the campaign trail, but usually doesn't take a lot of impromptu questions at events and surely won't gab with reporters like John McCain on the old "Straight Talk Express."
However, Perry's made a point of ignoring at least one segment of the Texas media.
R.G Ratcliffe, a reporter who's covered Perry for the Houston Chronicle and Austin American-Statesman, and is currently working on a biography of the governor, said "his relationship with reporters is better than his relationship with editorial boards."
Perry didn't lose sleep when Sen. Kay Bailey Hutchison (R-Texas) racked up newspaper endorsements during their 2010 gubernatorial primary fight. The joke in Perry's camp, according to Ratcliffe, was that they should give the Hutchinson campaign money to keep running a television ad boasting about support from editorial pages across the Lone Star state.
The Perry camp's reasoning for skipping editorial board meetings in 2010 was two-fold. They believed that editorial boards -- even those, like the Dallas Morning News, traditionally supporting Republicans -- weren't going to give Perry a fair shake and so it wasn't worth the time. Not to mention, polls showed Republican primary voters, given widespread distrust of the media, were less likely to vote for a candidate getting the editorial board seal of approval. Several journalists said that skipping the boards shows how Perry's not one to be swayed by tradition. If he doesn't want to do an interview with someone, he simply won't do it.
However, Perry did speak at a Dallas meeting of the National Conference of Editorial Writers last September -- an appearance that didn't help his relationship with editorial boards.
Colleen McCain Nelson, an editorial columnist for the Dallas Morning News, recalled that Perry flouted the ground rules that he'd take questions after addressing the crowd. She said it wasn't because he appeared to be in any sort of rush, either. "When it came time to take questions," she said, "he left and posed for pictures in the hall, like he had all the time in the world."
NCEW president Tom Waseleski, in a letter to Perry, said he was "stunned and disappointed" the governor left without taking questions. "If you had hoped to make a positive impression on this national press group," he concluded, "I must tell you that you utterly failed."
WILL THE 2010 STRATEGY WORK IN 2012?
Despite angering some editorial writers -- and taking heat in the press for breaking tradition and not debating his Democratic challenger -- Perry handily won re-election in 2010. Still, Perry's campaign may tinker with the Texas strategy when politically advantageous, such as competing for influential endorsements in close-fought state primary fights.
"I would be stunned if Rick Perry does not go to the Union Leader or the Des Moines Register if they want to do an editorial board meeting," said R.G. Ratcliffe, referring to the most influential newspapers in early voting states New Hampshire and Iowa.
A Perry spokesman, reached by email, did not offer a comment about the candidate's plans. But there are already some signs he may be more receptive than he was in the past. In June, Perry reportedly met with the Wall Street Journal's editorial board, an indication that he was already thinking nationally months ago. (A Wall Street Journal spokesman declined to comment.)
Republican strategist Mark McKinnon, who wrote about Perry's success despite shunning the media in 2010, said he doesn't expect the now-presidential candidate to alter his Texas media strategy. I think Perry will incorporate lessons he's learned from recent elections," McKinnon wrote in an email. "And bypassing the mainstream print media editorial boards will likely be on the list."
But Randy Evans, editorial page editor for the Des Moines Register, said he hopes Perry considers meeting with the editorial board before the caucuses.
"At a certain point, whether he likes the Des Moines Register or not, or whether he likes the media or not, there's this whole business of Iowans and readers and that sort of thing, where you'd hope he'd see the value in engaging in that kind of discussion," Evans said.
All the top Democratic and Republican contenders met with the Des Moines Register's editorial board prior to the 2008 caucuses, according to Evans, although Sen. John McCain -- who got the Republican endorsement -- only stopped by in September 2007.
Union Leader publisher Joe McQuaid said in an email that the paper doesn't have an editorial board, but said "we do try to meet with all the candidates and like to have interview-stories on each but there is no set calendar for that."
While newspapers -- and their endorsements – don't carry the same weight as they did in days before there were limitless choices of news and opinion available online, presidential campaigns still sought them out in the last cycle. And given the Union Leader's conservative bona fides, Republican contenders have long trekked to New Hampshire in hopes of snagging that key endorsement.
But would the Union Leader consider endorsing a candidate who didn't come in before the primary?
"A rookie just won the PGA title, so I guess anything is possible," McQuaid said. "But it's unlikely."
Related
Popular in the Community