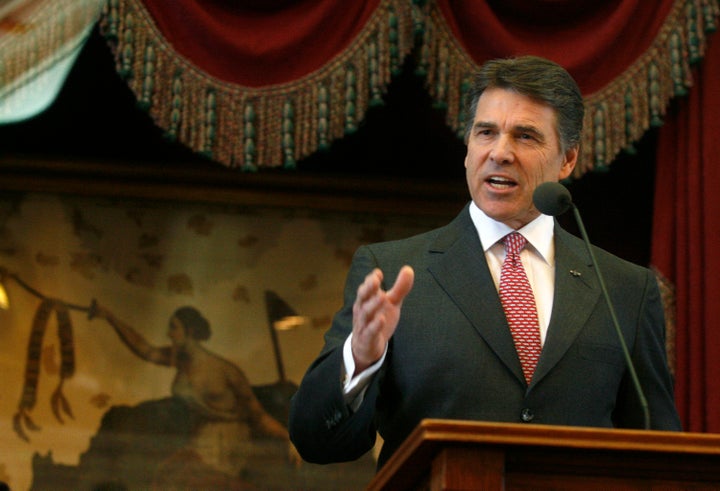 By Jim Forsyth - Sun Jun 5, 6:19 pm ET
SAN ANTONIO -- Saying "there is hope for America, and we will find it on our knees," Texas Governor Rick Perry has invited other governors to join him in a "solemn gathering of prayer and fasting" in August in Houston, according to the event's website.
Perry, who said recently he is considering a run for the Republican nomination to contest the presidency in 2012 against Barack Obama, has frequently made calls for prayer while governor.
"I sincerely hope you'll join me in Houston on August 6th and take your place in Reliant Stadium with praying people asking for God's forgiveness, wisdom and provision," Perry wrote in materials promoting the event, called "The Response, a Call to Prayer for a Nation in Crisis."
A message on the event's website says it is in response to a historic crisis and calls it "a non-denominational, apolitical Christian prayer meeting," with the goal "to rise up and make a sound that will be heard in heaven."
The site says Perry "has invited all US governors as well as many other national and Christian political leaders."
"Right now, America is in crisis," Perry says in a message on the site. "We have been besieged by financial debt, terrorism, and a multitude of natural disasters. As a nation, we must come together, and call upon Jesus to guide us..."
Perry's spokeswoman could not be reached for comment on the August event on Sunday.
Eric Bearse, a spokesman for The Response, said on Sunday: "The governor told the American Family Association about a month ago that we need to call Americans together for a time of prayer."
Bearse said the Mississippi-based American Family Association, a conservative Christian activist group, is paying for the event, and admission will not be charged.
In April, when Texas was in the middle of wildfires that burned nearly 3 million acres of the state, Perry issued an official proclamation calling for three "pray for rain days."
Last week, he urged a federal appeals court to overturn a ruling that prohibited graduating seniors at a Texas high school to pray during their commencement address.
(Editing by Jerry Norton)
Popular in the Community