"Even the woman who filibustered the Senate the other day was born into difficult circumstances. She was the daughter of a single woman, she was a teenage mother herself. She managed to eventually graduate from Harvard Law School and serve in the Texas senate," Perry said Thursday in a speech to the National Right to Life Convention. "It is just unfortunate that she hasn't learned from her own example that every life must be given a chance to realize its full potential and that every life matters."
Davis was raised by a single mother, and she became a single mother herself at 19. She went on to graduate from Harvard Law School and was elected to the Texas state Senate in 2008.
On Tuesday, Davis captured the attention of the world when she stood on her feet for 11 hours without a bathroom break and filibustered S.B. 5, a bill that opponents say would dramatically reduce access to abortion in the state. Republicans shut down Davis' filibuster about an hour and half before the midnight end to the legislature's special session on Tuesday, alleging that she broke the rules by speaking off-topic about a mandatory ultrasound bill. But Democrats were able to stall the vote by quabbling with Lieutenant Gov. David Dewhurst (R) about procedural issues, and the crowd of protesters in the state capitol drowned out the final vote by shouting at the top of their lungs.
While abortion rights supporters managed to kill the bill, Perry immediately called for another special session to begin on July 1 that will force the legislature to reconsider it. Perry slammed the protesters' "mob tactics" in his speech on Thursday.
"The louder they scream, the more we know we are getting something done," he said.
The bill would ban abortions after 20 weeks of pregnancy, limit the prescription of medication-induced abortions, and require first-trimester abortion clinics to be regulated as ambulatory surgical centers, even if they don't offer surgical procedures. Opponents of the law argue that the bill would close 37 out of the 42 abortion clinics in the state.
Perry argued on Thursday that the bill will protect women's health.
"It's important to remember while we are under an obligation to protect the health and safety of people who live here, we are under no obligation to make things easier for the abortionist," Perry said. "The ideal world is a world without abortion."
UPDATE -- Davis has responded to Perry's comments. "Rick Perry's statement is without dignity and tarnishes the high office he holds," she said. "They are small words that reflect a dark and negative point of view. Our governor should reflect our Texas values. Sadly, Gov. Perry fails that test."
Cecile Richards, president of Planned Parenthood Action Fund and a native Texan whose mother, Ann Richards, served as governor, responded in a statement to HuffPost.
"Rick Perry's remarks are incredibly condescending and insulting to women," Richards said. "This is exactly why the vast majority of Texans believe that politicians shouldn't be involved in a woman's personal health care decisions. Women are perfectly capable of deciding whether to choose adoption, end a pregnancy, or raise a child, and they don't need Rick Perry's help making that decision. What the world saw in Texas this week was democracy in action. The people had a voice this week, and we'll make sure they have a voice in the weeks ahead."
Support HuffPost
The Stakes Have Never Been Higher
Before You Go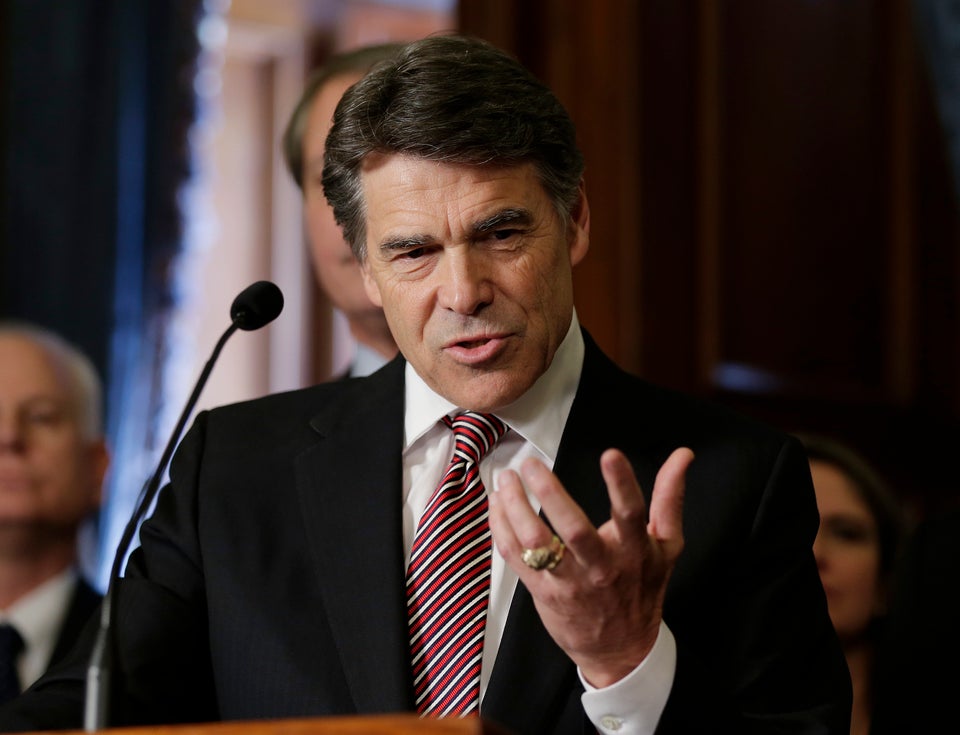 How Many Fingers Is Rick Perry Holding Up?
Popular in the Community