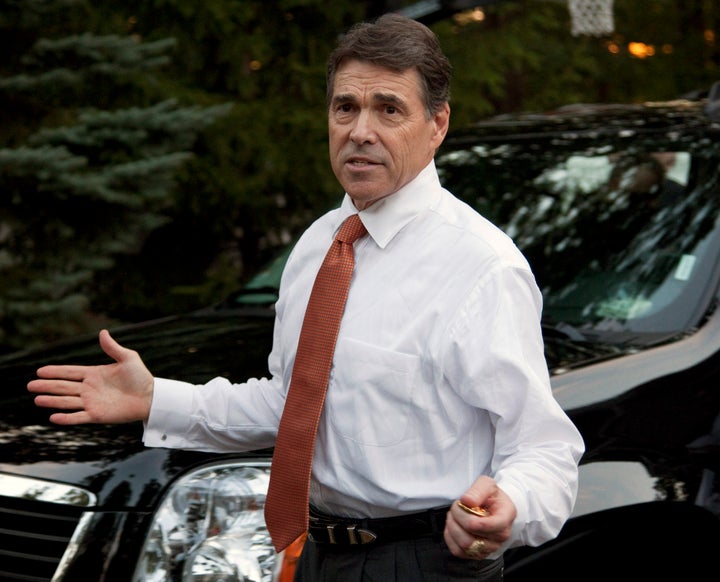 WASHINGTON -- In his 2010 book "Fed Up!" Republican Texas Gov. Rick Perry explained his displeasure with what he called the spending culture in Washington over the previous decade, including the period of unified Republican control from 2003 through 2006.
"They see no problem with spending other people's money for the next feel-good program that a lobbyist brings to them," Perry wrote.
Perry also railed at earmarks, the practice of a member of Congress directing spending to be used on specific programs.
"Earmarks represent the wasteful spending that has most caught public interest of late and for good reason, he wrote. "Earmarks corrupt the process and divert attention from the real task of governing and oversight."
But during the same time period covered in the book, Perry himself entered Texas into controversial contracts with Washington lobbyists who helped bring billions of dollars in federal money to Perry's home state, some of it via earmarks. Some of those lobbyists would wind up pleading guilty in a separate major bribery scandal.
A request for comment sent to Perry's office was not returned Wednesday afternoon.
While Perry's book is riddled with criticisms of spending on many federal programs, his lobbyists worked to extract federal funds for Texas from those same programs. According to lobbying disclosure reports filed with the Secretary of the Senate, Perry's lobbyists focused heavily on two topics: transportation appropriations and federal health care funding.
The transportation appropriations lobbying paid off: Texas received $754.4 million from 231 earmarks included in the Safe, Accountable, Flexible, Efficient Transportation Equity Act of 2005 (SAFETEA-LU), according to a database held by the nonpartisan budget watchdog Taxpayers for Common Sense. Perry's administraiton also touted an increase in the rate of return on Texas' gas tax dollars to 92 percent under the SAFETEA-LU legislation.
"[SAFETEA-LU] came at the height of the go-go years of earmarking access," said Steve Ellis, vice president of Taxpayers for Common Sense. "It was get while the getting's good."
Ellis pins much of Texas' lobbying success on former Rep. Tom DeLay (R-Texas). "Certainly DeLay was of the earmark persuasion," Ellis explained. "He was a major proponent of using earmarks to reward and protect incumbents."
In "Fed Up!", Perry also lampooned the 2003 Medicare prescription drug bill passed by the Republican-controlled Congress and signed by President George W. Bush. Perry wrote, "While putting the federal government in the pharmacy business, Medicare Part D just expanded a broken program further."
What "Fed Up" doesn't mention is that Perry's administration, and the outside lobbyists he hired, reported lobbying on that same prescription drug bill. As a result, they successfully increased federal funding for Texas' health care services by more than $350 million, thanks to a provision included in the bill's conference report, which was crafted behind closed doors. The Medicare prescription drug bill also included $250 million for Texas to reimburse providers of emergency services for undocumented immigrants.
But the lobbying contracts brought far more controversy than the spoils the hired lobbyists brought home. The lobbyists hired by Perry's administration were intimately connected to the major lobbying scandals of the 2000s. Those scandals involved two major players in Republican Washington -- Tom DeLay and Jack Abramoff -- who were both convicted on felony charges.
Republicans gained control of all branches of Texas government in 2003. Soon after, Perry and the state legislature cut the number of staffers in the Office of State-Federal Relations (OSFR), the agency charged with serving as a liaison between the Texas legislature and the state's congressional delegation, from 17 to seven in an attempt to save money.
In place of OSFR staffers, the agency issued a $15,000 a month contract to Drew Maloney, a lobbyist with the Republican-only firm The Federalist Group (later known as Ogilvy Government Relations). Maloney, a former chief of staff to DeLay, was part of a network of lobbyists that had come out of DeLay's office, extending the Republican leader's reach outside the Capitol.
Perry's move to hire Maloney fit perfectly with DeLay's broader goals. Part of the congressman's pursuit of power in Washington included a concerted effort to pressure lobbying firms to hire Republicans and fire Democrats, a process that came to be known as the "K Street Project" for the street in Washington that is home to many lobbying firms.
"The K Street Project was a program run by DeLay to nationalize Republican control over all of Capitol Hill," said Craig Holman, legislative representative for the watchdog group Public Citizen. "Republicans had won the Congress and the White House, and the remaining source of influence on national policy was K Street."
In 2004, Perry entered into another lobbying contract for the state with Cassidy & Associates through their lobbyist Todd Boulanger. Boulanger had risen through the lobbyist ranks thanks to his work on the lobbying team put together by Jack Abramoff, who had just been hired by Cassidy as a consultant. Abramoff was a close friend of DeLay's and instrumental in the Republican restructuring of the Washington lobbying profession.
"Here was a state agency that had handled its lobbying in-house and suddenly it was sending its work to Tom DeLay's inner circle," said Andrew Wheat, research director of Texans for Public Justice.
Officially, OSFR is led by the offices of the Texas governor, lieutenant governor and the speaker of the Texas House. But early as 2005, both Lt. Gov. David Dewhurst and Speaker Tom Craddick denied involvement in the lobbyist hiring process from its outset.
"I wasn't for hiring a lobbyist at the national level. The governor's office was wanting to do that," Craddick told the Houston Chronicle in 2005. "I told them I didn't want to do it."
MORE CONTRACTS, MORE MONEY
The contracts through OSFR were not the only ones tied closely to Perry's administration and DeLay's circle of fundraising lobbyists. Maloney and The Federalist Group received three other lobbying contracts from three quasi-governmental organizations almost immediately after Perry announced contracts and grants out of the state's Enterprise Fund in 2004 and 2005.
On March 29, 2004, Perry announced a $40 million contract to launch the Advanced Materials Research Center (AMRC), which would be run by SEMATECH, to do development and research for the semiconductor industry. Just two days later, Maloney registered to lobby in Washington for AMRC. Over the course of 2004 through 2005, Maloney's firm reported receiving $420,000 in receipts from the ARMC lobbying contract.
On Feb. 1, 2004, Perry announced another Enterprise Fund contract, worth $3.6 million, to the Texas Energy Center to help launch the group of research, energy and university organizations. That same day Maloney was hired to lobby for the Energy Center, eventually reporting $20,000 in receipts.
In 2005, another million-dollar Enterprise Fund contract went to the Gas Technology Institute, which would be housed inside of the Texas Energy Center. Five months after receiving the $1.5 million contract, the Gas Technology Institute hired Maloney to lobby in Washington. Maloney's firm reported a total of $340,000 in receipts from 2005 through 2007.
The lobbying contracts for the firms hired by Perry eventually totaled over $1 million, including a short-lived contract with the lobbying firm Piper Rudnick. Despite protestations by Perry's office at the time, the vast majority of the lobbyists hired by OSFR were well-connected Republicans. Only two of these lobbyists were Democrats.
The lobbying contracts with the state and its quasi-governmental organizations were not solely controversial for the amount of money involved or the partisan make-up of the lobbying team. They also faced serious criticism and, eventually, a state audit for the fundraising and campaign contribution patterns of the lobbyists involved.
Maloney's hiring occurred immediately after the 2002 election that swept Texas Republicans into control of all branches of government in the state for the first time since Reconstruction. Much of that electoral success was due to DeLay's fundraising efforts for state legislative candidates through his Texans for a Republican Majority PAC (TRMPAC), something that would eventually lead to an indictment and felony conviction for DeLay.
"DeLay wanted a Republican House in the state of Texas and so he exercised enormous influence in the state," Wheat explained. "And the Republican politicians took steps with state money to make sure that Delay's guys got paid off."
Jim Dunnam, the former Democratic leader in the Texas House of Representatives, was a leading voice opposed to the lobbying contracts at the time. Dunnam, who is currently a senior fellow at the Texas First Foundation, told The Huffington Post the contracts were all about money.
"We've got 32 congressmen and Tom DeLay is the majority leader," he said of the 108th Congress. "Why do we have to hire lobbyists to lobby our congressmen?"
In Dunnam's view, the lobbying was unnecessary. Rather, Perry and his administration had other motives. "They were paying these lobbyists big money and they were turning it around and giving the money to the RNC and other political committees."
A 2006 press release from Dunnam's office noted that after Maloney received the OSFR lobbying contract, his campaign contributions increased from $250 in 2002 to $75,000 in 2003 -- all to Republican candidates and committees. Some of those contributions went to Republicans seeking to oust incumbent Texas Democratic congressmen in districts newly created under a controversial mid-decade redistricting process masterminded by DeLay.
"[Perry and his administration] were giving taxpayer money to these [lobbyists] and they were turning it around and giving it to defeat Texas congressmen," Dunnam said.
By the end of 2005, the contracts had become a liability. Both DeLay and Abramoff had been indicted and soon Abramoff would plead guilty in a massive corruption conspiracy that ended with more than two dozen people -- among them, lawmakers, lobbyists, aides, executive branch officials, consultants and businessmen -- pleading guilty. Those caught by the Justice Department included two from Cassidy's Texas lobbying team, Boulanger and James Hirni. DeLay was later convicted on charges related to his fundraising in 2002 that had brought Republican control to Texas' state government.
Ultimately, the lobbying contracts drew an audit by State Comptroller Carole Keeton Strayhorn, who ran for governor against Perry as an independent in 2006. Strayhorn found a relationship between the lobbyist contracts and the fundraising by hired lobbyists for DeLay that was too close for comfort, and the contracts were ended.
Perry's spokesman at the time, Gene Acuna, defended the lobbying contracts in terms that the governor did not repeat in "Fed Up!" and would likely not want to use now: "It is difficult to understand why anyone would be against Texas aggressively pursuing more federal funding for health care, transportation and higher education. ... If there's an opportunity to ensure that Texas is getting maximum federal funds, the state is going to take it."
Popular in the Community