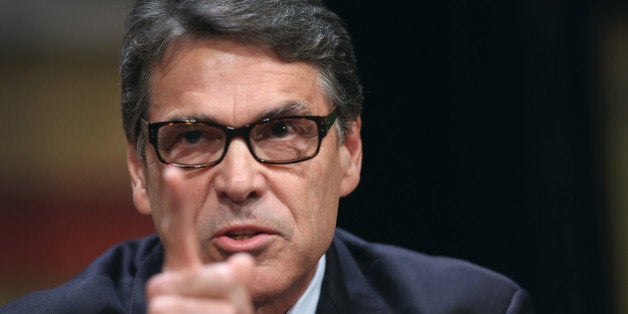 Former Texas Governor Rick Perry's quest for the 2016 GOP presidential nomination hasn't been the most impressive campaign thus far. He's found himself near the bottom of the very large pack seeking the Republican nomination for the past several months and he hasn't found a signature issue or message to differentiate himself from the other candidates in the race.

Until now. Perry has gone after Republican Presidential candidate and short-fingered vulgarian Donald Trump with a vengeance. Perry was one of the first candidates out of the blocks in criticizing Trump after Trump famously belittled Senator John McCain's experience as a POW in Vietnam. Perry has said that conservatives should fight the "cancer of Trump-ism", which Perry has described as a "a toxic mix of demagoguery and nonsense." Trump hasn't taken this lying down, of course, and he's suggested that Perry take an IQ test and he ridiculed Governor Perry's eyeglasses. (Which, as an aside, make Perry look remarkably like famous author and ornithologist Jonathan Franzen.)
All of this could be dismissed as a public spat between two well-coiffured political celebrities, but there is a real opportunity for Perry here to gain traction. Perry has struggled in this election cycle to find a reason for his candidacy that can set him apart from his competitors in the GOP field. Trump provides something that can be very helpful for self-definition -- a nemesis. The constant media attention on Trump translates to attention on anyone he spars with and Perry has been quick to seize that opportunity. And it's not just a matter of media hype. On certain key issues like immigration, trade policy and defense issues, Perry can present himself credibly as the anti-Trump at just the moment he needs to provide an argument for why he should be taken more seriously than he has been for much of the current election cycle.
Texas Monthly editor and Texas political analyst Erica Grieder has suggested for some time that Perry is well-positioned to do a breakout in the Republican Presidential race. When Perry started getting good press for his criticisms of Trump, she tweeted: "So far, my theory that Rick Perry ultimately smashes into this primary like the Kool-Aid pitcher looks pretty good".
Rick Perry as wall-smashing Kool-Aid pitcher. That's an arresting image.
Perry is a gifted politician, despite the debacle of his 2012 Presidential campaign. I've written for some time that while he isn't the likely frontrunner in 2016, he isn't without prospects and the right turn of events could push him forward. Having an adversary like Donald Trump may create that turn of events, if Perry is able to continue capitalizing on it. The time for him to do that is now and in the coming televised debates, assuming Perry is able to be one of the candidates on the stage.
They say a man can be judged by his enemies. To the extent that's true, having Donald Trump as an enemy isn't the worst thing that can happen to a politician. It may just be what Rick Perry needs to move into the upper tier of GOP Presidential candidates.
REAL LIFE. REAL NEWS. REAL VOICES.
Help us tell more of the stories that matter from voices that too often remain unheard.