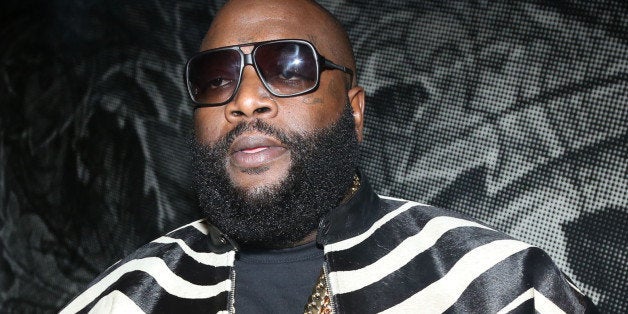 Rick Ross has ignited controversy with recent lyrics referencing the Trayvon Martin shooting.
In his new song, "BLK & WHT," Ross raps: "Too close to a n***a as a motherf**king bomb/ Trayvon Martin, I'm never missing my target/ B***h n***as hating, tell me it's what I'm parkin/ Wingstop owner, lemon pepper aroma/ Young, black n***a, barely got a diploma."
The track is featured on the rapper's latest studio album, "Mastermind." The album streamed on iTunes Tuesday, which also marked the two-year anniversary of Martin's death, the Grio noted.
"I'm reminding people that if you're a black person or a person of any color for that matter in this country, you have to be accurate, whatever moves you make, stay accurate," he said. "Even when you're walking down the street, playing music from your car, you have to stay on point ... So, stay alert and never miss your target. Whatever that target may be. Getting out the hood, providing from your family. Stay sharp. Stay alive. Trayvon, Rest in Peace."
This is not the first time the Florida rapper's words have gotten him into trouble.
Popular in the Community