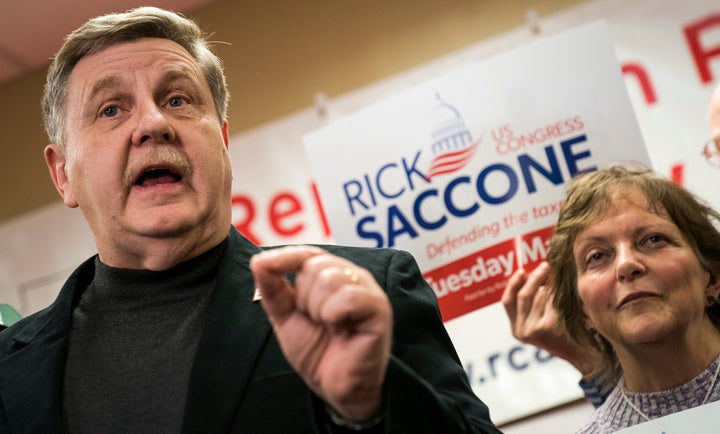 ELIZABETH TOWNSHIP, Pa. ― A special election in Pennsylvania's 18th Congressional District was still too close to call Tuesday night, although the fact that it was this close at all was bad news for Republicans. It was a district that Donald Trump won by nearly 20 points in 2016, and the GOP should have easily held on to it.  
According to some Republicans, the fact that they were on the verge of losing wasn't because their messaging was weak or the president had created an incredible backlash effect. And it certainly didn't mean that Democrats were going to dominate at the polls in November.
All it means, at least according to these strategists, is that their candidate running in Pennsylvania's 18th District sucked. State Rep. Rick Saccone was horrible, and it's his fault the GOP was embarrassed nationally.
"He came across as establishment. And I think that's part of the problem," said Jason Miller, a former aide to Trump's campaign, in a CNN interview Tuesday. "He's in the Statehouse. He very much sounds like he's already part of Washington. You flip on the TV there ... and a lot of it looks really cookie-cutter, like, we're Washington, and we're here to help."
But other Republicans thought he could have used a bit more polish.
"This may not be nice to say: The fact is that the Saccone campaign was a joke. If we had a candidate who could walk and chew gum at the same time, we would have [easily] won the race," said Corry Bliss, executive director of the Congressional Leadership Fund super PAC, in a statement.
An anonymous Pennsylvania GOP strategist told The Washington Examiner they had a very specific complaint about Saccone: His moustache was disgusting.
Saccone was overwhelmingly favored to win the race. The district was so solidly Republican that Democrats didn't even field a congressional candidate here in 2014 and 2016. GOP groups dumped nearly $11 million into the campaign on advertising and media messaging ― an astounding amount for a district that will not exist due to redistricting next year.
But instead, Democrat Conor Lamb gained momentum. The 33-year-old political novice left his job as an assistant U.S. attorney in Pittsburgh to run in the special election, and he significantly outpaced Saccone in fundraising throughout the race ― another mark against the GOP candidate.
"When candidates don't raise as much in hard dollars, it's very difficult to run these things from afar," Mike DeVanney, a Pittsburgh-based Republican political consultant told HuffPost.
"Candidates and campaigns matter, and that's why it's a race," said a national Republican operative active in the race who asked not to be named. "You have one candidate that's out of central casting, Conor Lamb, and then you have a candidate on the Republican side who, it was expected, would be lackluster in fundraising."
Many of Saccone's supporters who came to his election party in the Youghiogheny Country Club on Tuesday night were close friends from Elizabeth Township. Saccone grew up there and now lives there with his family. 
Some of them said they were frustrated that the national Republican Party chose to spend almost all of its resources on negative ads rather than ads highlighting the character traits of the humble and generous man they say they know from their neighborhood.   
"I feel like when the national party got involved and they put out the advertising and everything, it doesn't focus on Rick. Rick is freaking amazing," said Lesa DeMaio, 52, who runs a tutoring business in town.
Shar Tibbitt, 56, Saccone's office manager at the state House, provided a similar assessment. She teared up recounting the moment she told Saccone that she had undergone a double mastectomy to remove breast cancer. Saccone broke down crying and then prayed with her.   
"I know Rep. Saccone doesn't like to do attack ads. I wish [the national groups] would have promoted Rick more and stopped attacking the opponent," Tibbitt said.   
When these same Saccone partisans were asked what they then made of Republican operatives blaming Saccone and his campaign for the close nature of the race, they were very frustrated.   
"That's unfortunate. I don't understand how they can blame him. They're the ones who made the ads," Tibbitt said.
But Bryer Cochenour, an 18-year-old student at Westminster College who cast the first vote of his life for Saccone, was not particularly ruffled by GOP criticism of Saccone. He saw it as the typical behavior of political operatives in both parties trying to pass the buck.
"They threw Hillary under the bus," he said of Democratic presidential candidate Hillary Clinton. "Anyone who sees that a race might be close or might not be in their favor, they throw them under the bus."
Trump made a last-minute campaign appearance for Saccone, although he spent very little time actually talking about the race itself. The president has reportedly trashed Saccone in private, considering him a "weak″ candidate.
But there was far more going on than just whether or not Saccone was a strong candidate. Nationwide, Democrats have dominated at the ballot box since Trump took office, flipping 39 state legislative seats from red to blue ― along with the governor's mansion in New Jersey and a U.S. Senate seat in Alabama. Republicans, meanwhile, have taken over just four state legislative seats previously held by Democrats. 
A number of voters who backed Trump but decided to support Lamb said they did so not because Saccone was an unpolished or incompetent candidate but simply because they didn't like his policy views on issues like labor rights ― a major factor in this union-heavy district.
The Republicans' marquee legislative achievement just didn't play well here either. The GOP intended to make passage of the tax cut law the centerpiece of its strategy in the 2018 midterms. But Republican groups stopped airing ads mentioning tax cuts toward the end of the Pennsylvania race after realizing the issue wasn't moving voters.
And, of course, there was that much-mentioned energy that has been fueling the Democratic side and grassroots groups in the age of Trump. Stunned by losses in 2016, the left has mobilized in a way that even Republicans acknowledge could portend a blue wave in November.
Although Trump likes to boast that his supporters will never desert him, results like the Pennsylvania special election show that his appeal is limited. At least some members of his base have no problem rejecting Republican candidates ― even ones he supports.
Amanda Terkel and Igor Bobic reported from Washington. Daniel Marans reported from Elizabeth Township, Pa.
Calling all HuffPost superfans!
Sign up for membership to become a founding member and help shape HuffPost's next chapter