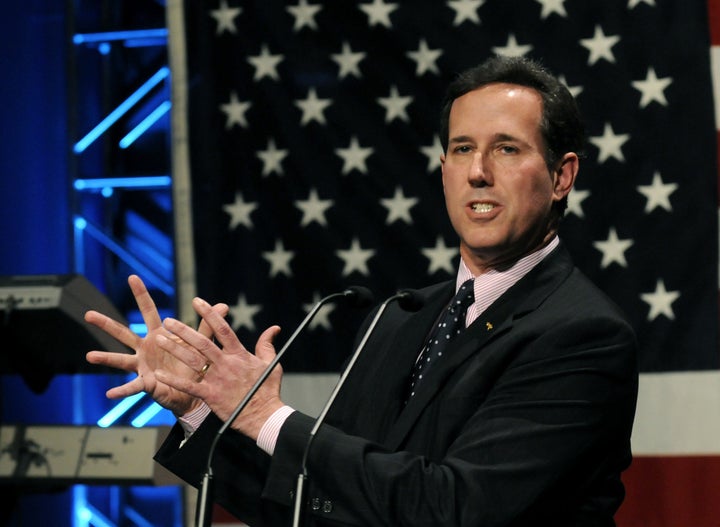 Former senator Rick Santorum announced the launch of a presidential exploratory committee for the next election cycle on Wednesday night during an appearance on Fox News.
Earlier in the day, Santorum alerted his supporters that he would be addressing the next step of his decision-making process ahead of 2012 on the network.
"Over the past two years, I have traveled our great nation listening to people express their concern for the future of America," he wrote in an e-mail. "Throughout this journey, my wife Karen and I have been incredibly humbled by the encouragement I have received to run for president in 2012."
While recent polls haven't shown Santorum running toward the front of the potential GOP presidential pack, the former senator came out on top of a straw poll taken at the Greenville County Republican convention in South Carolina last weekend.
Santorum is a favorite of social conservatives and represented Pennsylvania for two terms in the Senate. He has been busy laying the groundwork for an expected presidential campaign for months. He lacks the name recognition and organization of his better-known rivals.

But social conservatives, who hold huge sway in the early nominating contests in Iowa and South Carolina, are far from settled on a preferred candidate in a field that lacks a clear front-runner.

The Los Angeles Times recently reported that Santorum described himself as a "tortoise" and overlooked in the GOP presidential field, though soon that would perhaps change.
"I'm out there -- 13 trips to Iowa, 14 trips to South Carolina, my trips to Nevada, talking to groups that can be helpful in this process," he said. "I'm just trying to take one step after another and do my best."
Santorum said on Wednesday night that now the real test for him is whether he can raise enough money to run a competitive campaign.
Last month, Santorum was suspended in his role as a contributor to Fox News, along with former House Speaker Newt Gingrich, in the wake of the former lawmaker signaling plans to explore the idea of running for president.
On Wednesday night, Santorum addressed the launch of his presidential exploratory effort in an email to supporters. Below, full text of the potential candidate's message.
Dear ______,

You have been one of my long-time supporters, so I wanted you to be one of the first to know of a major step I have taken toward running for President of the United States in 2012.

Tonight during an appearance on the Fox News Channel, I announced that I established a Presidential Testing-the-Waters effort, which will allow me to begin the process of raising the funds necessary to consider a formal candidacy.

And the reason I have done this is simple: In 2008 Americans wanted a president who they could believe in, but after two years they realized that what they needed is a president who believes in them.

It's time for America to be America again -- an America that rewards innovation and hard work, that stands by our allies instead of our enemies, that protects even the most vulnerable of our society, and an America that says every life is to be cherished. That's what I believe in and that's why I'm taking this next step in a possible run for president.

So today I am emailing my long-time friends and supporters, hoping that you will again stand with me as we fight for the future of the country we love and the values we cherish. You have always been by my side through our past fights - whether the 1996 Welfare Reform bill they said could never work, fighting through President Clinton's vetoes of the Partial Birth Abortion Ban, or taking on brutal dictators in Iran and Syria when they said it was not our place to stand up for liberty.

I hope that you will stand with me again as I explore a run for the Presidency.

For more information visit our new website at: www.RickSantorum.com
God Bless,

Rick Santorum
Calling all HuffPost superfans!
Sign up for membership to become a founding member and help shape HuffPost's next chapter