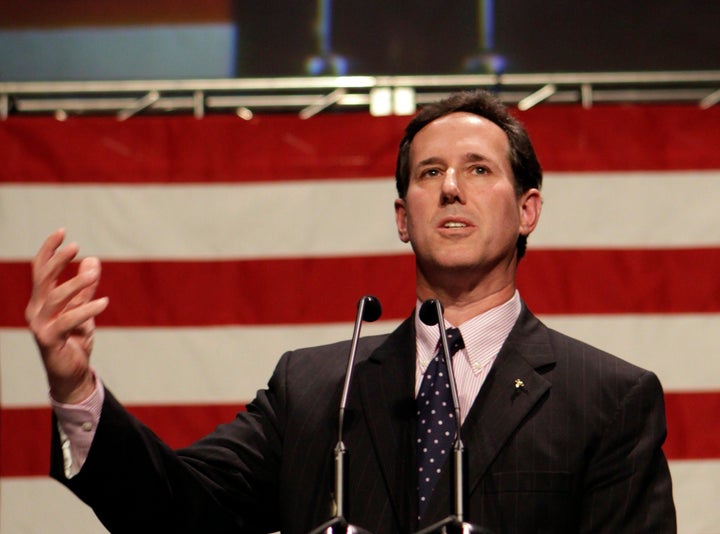 Former U.S. Senator Rick Santorum declared his candidacy for president of the United States on Monday, vowing he's "in it to win it."
Santorum, a favorite among his party's social conservatives, chose to confirm his plans during an appearance Monday morning on ABC's "Good Morning America" at the banner-draped site he chose in the western Pennsylvania coalfields for his formal announcement.
In the network interview, Santorum accused President Barack Obama of having a weak foreign policy, saying he doesn't feel he has stood up sufficiently to Iran and asserting he has done too little to speak out against Syrian President Bashir Assad for the violence there.
"I'm ready to lead. I'm ready to do what has to be done for the next generation, with the courage to fight for freedom, with the courage to fight for America," Santorum said later in the day, speaking the sun-splashed steps of a county courthouse in western Pennsylvania. "That's why I'm announcing today that I'm running for president of the United States of America."
Santorum, who enjoys strong support from the anti-abortion rights bloc in the Republican Party, nodded to the social conservatives who have huge sway in early nominating states of Iowa and South Carolina. He also pitched himself to tea party-style activists who have yet to jell around a single candidate.
"The principal purpose of America was to make sure each and every person was free. Ladies and gentlemen, that is at stake now," Santorum said, pointing to a Democratic-pushed health care law that conservatives loathe.
"Every single American will be hooked to the government with an IV," Santorum said.
"They want to hook you. They don't want to free you. They don't want to give you opportunity. They don't believe in you. ... This president does not trust you to make a decision on your health care plan."
He also said that Democratic spending has put the country on a dangerous path, and Santorum blamed Obama for an economy that collapsed in 2008 before he won election.
"If you look at the record of spending under this president, sure he came in with a problem .... but he kept digging and digging," Santorum said.
In an announcement speech near the coal fields where his immigrant grandfather toiled, Santorum praised the nation's founding fathers and said the nation needs to return to the potential that lured his grandfather from Italy in 1927.
"If they work hard, they can succeed. That's the America my grandfather came to. That's the America my dad lived in," Santorum said. "That's the America we need again today."
Santorum enters the race four days after former Massachusetts Gov. Mitt Romney formally declared his candidacy and former Utah Gov. Jon Huntsman and Minnesota Rep. Michele Bachmann are strongly weighing bids.
Former House Speaker Newt Gingrich, former Minnesota Gov. Tim Pawlenty and businessman Herman Cain are already in a race that has seen some of its biggest names decide against bids. Former Arkansas Gov. Mike Huckabee, Mississippi Gov. Haley Barbour, Gov. Mitch Daniels of Indiana and entrepreneur-entertainer Donald Trump have said they're not running.
There also has been speculation that former New York Mayor Rudy Giuliani, who sought the nomination in 2008, is considering making another run.
Santorum's announcement comes as no surprise. The Republican hopeful signaled his intention to officially kick off his campaign for the White House last week after making numerous trips to the key primary states of Iowa, South Carolina and New Hampshire in recent months.
The latest polls have shown Santorum to be trailing more well-known Republicans vying for the party's nomination to take on President Barack Obama in 2012. Findings from one survey released by Gallup last week suggest the former senator lacks strong name recognition among voters on the right side of the aisle.
Santorum formed a presidential exploratory committee for the next election cycle earlier this year. The Los Angeles Times reported just prior to the launch of the organization that Santorum described himself as a "tortoise" and overlooked in the GOP field, though perhaps that would soon change.
Santorum, 53, is married with seven children. He has been out of elective office since 2007 and lacks the robust fundraising or personal wealth of his likely rivals.
But he is a tough campaigner, unafraid of fiery rhetoric.
"I believe now, that Americans now are not looking for someone they can believe in," Santorum said in a mocking reference to Obama's 2008 campaign slogan, "Change You Can Believe In."
"They're looking for a president who believes in them," Santorum said.
He is expected at next Monday's debate in New Hampshire, which is likely to include more of the expected field.
Calling all HuffPost superfans!
Sign up for membership to become a founding member and help shape HuffPost's next chapter