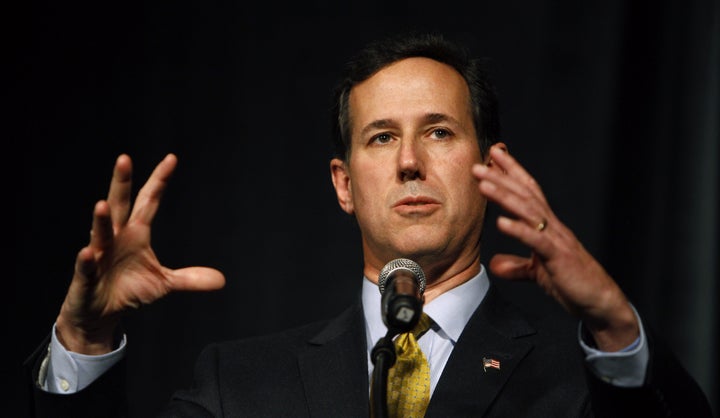 Former Pennsylvania Sen. Rick Santorum, a potential Republican candidate for president in 2012, would do away with the 9th Circuit Court of Appeals if he was elected to the White House, he said Wednesday.
Speaking to small gathering of Tea Party members in South Carolina, Santorum said he thinks the federal government's judicial branch had obtained too much power.
"The courts were supposed to be the most insignificant branch of the government," he said. Congress has the power and the right to declare what is constitutional or not, he said, and added that since Congress created all of the courts, other than the Supreme Court, it has the power to disband them.
If such a measure were to be passed and arrive on "President" Santorum's desk, the former senator said, he wouldn't hesitate to sign it.
"I would sign a bill tomorrow to eliminate the 9th Circuit [Court of Appeals]. That court is rogue. It's a pox on the western part of our country," Santorum said, according to the Sun News.
The 9th Circuit Court of Appeals is the largest circuit, based on the West Coast. It covers suits in the states of Alaska, Arizona, California, Hawaii, Idaho, Montana, Nevada, Oregon and Washington and is commonly cited by conservatives as a liberal body, due to its relatively high proportion of Democratic appointees and the frequency with which the Supreme Court overturns its rulings.
Not everyone agrees with that contention, however. According to a report from The New York Times last year:
Tom Goldstein, an expert on the Supreme Court, said there was "no evidence of the Ninth Circuit being out of control or of the Supreme Court thinking it is out of control." He said that there were "old-school, Carter-era liberal appointees on that court who are out of step with the current Supreme Court and are quite strong willed." He added that those judges "get a lot of attention from the justices" of a Supreme Court that has itself moved significantly to the right over the years.
Popular in the Community