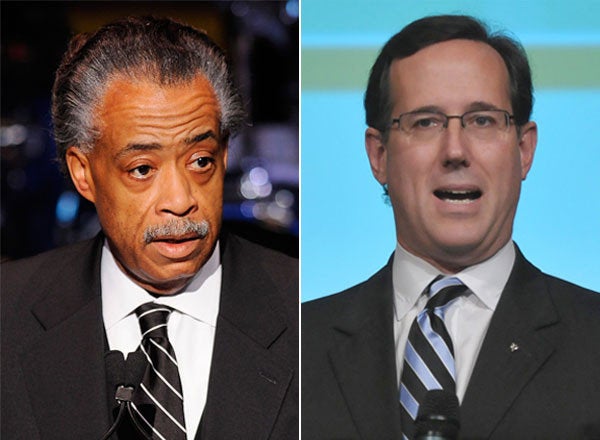 Former GOP Pennsylvania Sen. Rick Santorum, a pro-life champion, locked horns with civil rights leader Al Sharpton over the issue of abortion in a heated debate Monday night.
The primary matter at hand was a racially-charged volley lobbed by Santorum at Obama over the president's belief that women should be given a right to choose. "I find it almost remarkable for a black man to say 'now we are going to decide who are people and who are not people,'" Santorum said of the Obama's belief in abortion rights an interview last week.
Santorum, as he has proven in the past week, appeared happy to again dig in his heels and stand by this contention during the argument Monday.
"They were denied rights under the Constitution," Santorum said, speaking of blacks before the passage of the 14th Amendment, before connecting that to his argument that abortion rights are inherently an infringement on the civil rights of fetuses.
"Rev. Sharpton, there is no debate. That entity at the moment of conception is alive and it is genetically human. You were that entity at some point, [Hannity] was that entity, everybody was that entity. It is a human life," Santorum continued. "The person who's most robbed of their civil right is that child in the womb."
"That is an exact distortion of what you said," Sharpton responded, "we're not debating whether or not at any stage blacks were human, we were debating that all blacks...at any stage at any age were less than human...it was two different things."
Popular in the Community