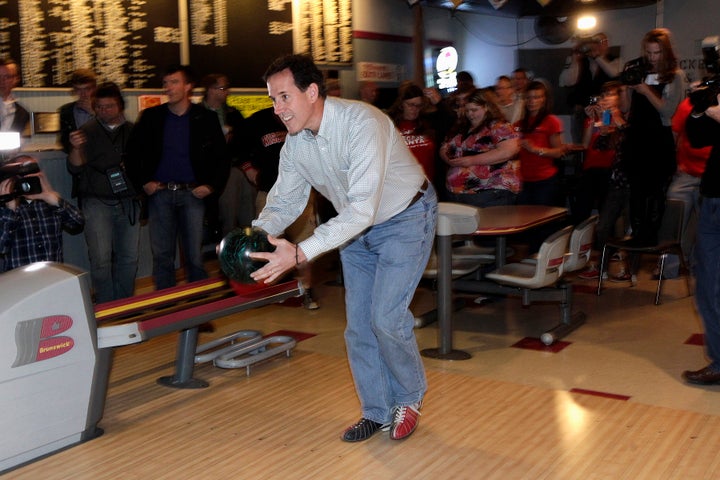 Over the past few weeks it seems Rick Santorum has accused anyone who even remotely gets under his skin of being a "bully." He called Mitt Romney a "bully" back in February. Earlier in the week, at a campaign event in Wisconsin, he called unions "bullies." And he accused New York Times reporter Jeff Zeleny of trying to "bully" him.
But an incident at a campaign stop at a bowling alley yesterday betrays that Santorum is so obsessed with bullies because he looks at one one every morning in the mirror.
According to Reuters reporter Sam Youngman, who tweeted what he heard, Santorum had some advice for a little boy who was reaching for a pink bowling ball: "You're not gonna use the pink ball. We're not gonna let you do that. Not on camera."
Santorum may just as well have called the kid a "fag." Or was there some other thing he was implying the kid would look like if he used the pink bowling ball? I can't think of one, can you?
Santorum went on to say, "Friends don't let friends use pink bowling balls," at once bullying the kid, teaching him how to be a bully, too, and sending a strong message to all other boys who might choose a pink bowling ball.
It may seem innocuous to some, but as the Human Rights Campaign's Fred Sainz said in a statement, "Kids have enough to worry about. They don't need Rick Santorum telling them that using a pink bowling ball is a bad thing. In this case, he's advancing tired gender norms by implying a boy should be ashamed or embarrassed to use a certain color bowling ball."
The documentary Bully, which is at the center of much controversy right now because of the Motion Picture Association of America's wrongheaded decision to give it an R rating, powerfully exposes how verbal taunting of kids in schools for not fitting gender norms often plunges them into a world of despair, and how adults don't do enough to stop the madness.
The film, opening in theaters beginning this Friday (or at least those that will take it since the Weinstein Company decided to go without a rating), focuses not on blue-state urban youth with liberal, middle-class parents but on the children of God-fearing, working-class, red-state moms and pops -- the people of Santorum's America. It's wrenching, as we hear the stories from the families of kids like Oklahoma 11-year-old Ty Smalley, who took his own life because of the taunts, and Tyler Long, a Georgia teen who hanged himself in a closet. We witness a Mississippi girl who became so desperate she took her mother's gun to school to threaten her bullies on the school bus, tragically landing her in a juvenile detention center.
It's bad enough that a presidential candidate would further the kind of bullying that is at the heart of the problems of violence and teen suicide in our schools. But Santorum goes further than that, rationalizing his bullying by whining and complaining that he's the one who is being bullied, and then making bullying a badge of honor for all GOP politicians. Excusing his bullying tirade directed at Times reporter Zeleny, Santorum told Fox and Friends, "If you haven't cursed out a New York Times reporter during the course of a campaign, you're not really a real Republican." That tells us a lot not just about Santorum but about the GOP, the bully party.
Calling all HuffPost superfans!
Sign up for membership to become a founding member and help shape HuffPost's next chapter