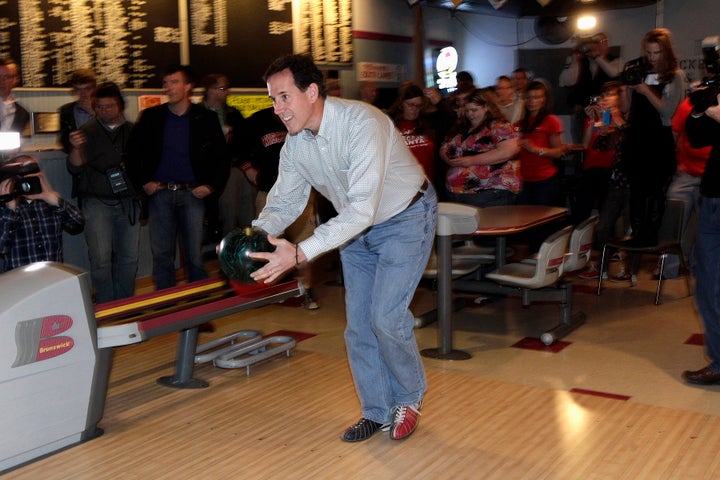 Rick Santorum incited the ire of gay rights advocates when he told a boy to not use a pink bowling ball during a campaign stop at a Wisconsin bowling alley.
According to Reuters' Sam Youngman, Santorum told a young man at South Lanes Bowling and Pizza in La Crosse to avoid using the femininely colored ball. "You're not going to use the pink ball," the former Pennsylvania senator said. "We're not gonna let you do that. Not on camera."
At the prompting of another reporter, Santorum also quipped, "friends don't let friends use pink balls."
The Human Rights Campaign, a prominent LGBT rights group, condemned Santorum for "advancing tired gender norms by implying a boy should be ashamed or embarrassed to use a certain color bowling ball."
"This is another example of Rick Santorum intentionally making ignorant statements that have a real impact on LGBT people," Human Rights Campaign's Fred Sainz said in a statement. "Kids have enough to worry about. They don't need Rick Santorum telling them that using a pink bowling ball is a bad thing."
Santorum has repeatedly drawn criticism for his staunch opposition to same-sex marriage. Sex columnist and gay rights advocate Dan Savage infamously launched a campaign to redefine Santorum's last name in response to his 2003 comments on homosexuality and "man on dog" sex.
Last week, Santorum made another bowling alley stop, during which he bowled a turkey. The GOP presidential candidate touted his bowling skills during an appearance on "Face the Nation."
"I was bowling in Sheboygan yesterday with a bunch of folks at a tournament and threw three strikes in a row," he said during the Sunday interview. "That's a turkey. That tells you that you've got someone here who can relate to the voters in Wisconsin, just like those of us in western Pennsylvania who grew up in the bowling lanes."
CORRECTION: In an earlier version of this article, Rick Santorum's bowling skills were described as "lacking." That is not the case.
Popular in the Community