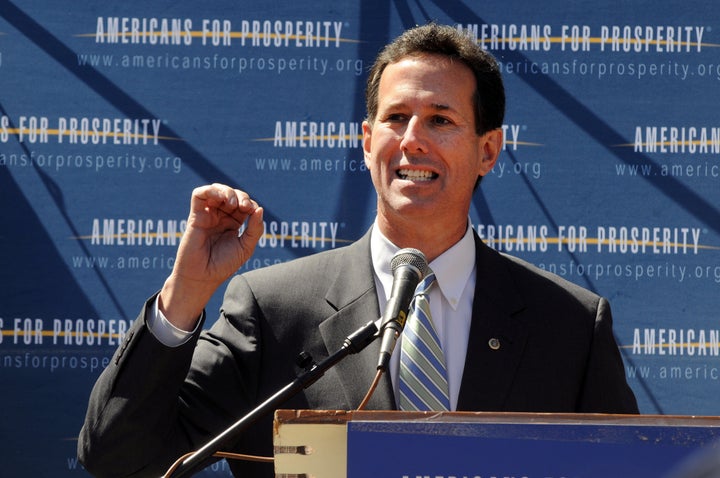 In his second run at the Republican nomination for president, Mitt Romney has appropriated the "Believe in America" slogan which at one time belonged to Sen. John Kerry. Tim Pawlenty has his "Time for Truth" tour. And both President Obama sand Newt Gingrich have encouraged voters to join them, separately, in "winning the future."
Only Sen. Rick Santorum (R-Pa.) has found a way to whittle down his campaign theme to one word:
In an email message sent out yesterday to supporters, Santorum's campaign attempted to clarify just what sets their frothy, third-tier candidate apart from the other GOP presidential hopefuls.
"On Monday I hope to start a new kind of conversation," the email read. "I won't just get in front of the news media and bash President Obama or push more of the same in a different wrapper. I will talk about faith, freedom and our founding principles -- and how all of these require one thing -- courage. Unlike many others, I believe I have the courage to fight for this great country."
The courage theme came in handy on Thursday as Santorum's camp pulled off a perhaps accidental dig at Sarah Palin: The former Alaska governor has refused to release her bus tour's travel schedule in New Hampshire, citing security reasons. On Thursday, when Santorum sent out his travel details, with specific times and addresses, he included those lines about courage.
Dropping a "courage" or two may not be the best strategy for Santorum to break the impression that his relevance has been on the wane since welfare-reform was a hot topic, however. After all, Dan Rather infamously tried signing off his evening newscast with the word, beginning in the mid-'80s.
Santorum had previously ripped off even older source material for his initial campaign slogan. He had to drop "Fighting to Make American American Again" after the line was traced to a Langston Hughes poem.
John Brabender, a senior adviser to the Santorum campaign, explained to HuffPost just what Santorum's version of courage actually means and why the campaign decided to use it. "He is a big believer in the Constitution and how this country was set up," Brabender said.
That may sound like the courageous talking points from every other Republican candidate. But Brabender offered another explanation: "One of the things you need from a president is the courage to be honest with the American people. ... One thing that he has shown in the history of his career is to say what he honestly believes."
So what are some of those courageous beliefs? Brabender provided a few examples of Santorum's tough stands: "He thinks Romneycare is dead wrong. He thinks Newt Gingrich is dead wrong about Paul Ryan's plan."
Santorum is set to announce his run for the presidency on Monday in front of the Somerset County Courthouse in Somerset, Pa. He could also unveil "Courage" as his official campaign slogan.
He has already appropriated the word "freedom," with the word inserted as part of the "O" in his name atop the mass email. And, yes, that's a bald eagle flying through the big "O."
Popular in the Community