WASHINGTON -- It was a very bad night for Mitt Romney Tuesday, no matter which way you sliced it, another harsh blow undermining his argument that he is the strongest Republican candidate for president.
It happened in Iowa on Jan. 3. It happened Jan. 22 in South Carolina. And on Tuesday night, Romney was again rejected by a large portion of the Republican electorate, this time in Missouri, Minnesota and Colorado.
Former Sen. Rick Santorum (R-Pa.) won Missouri and Minnesota by large margins, capturing 55 percent of the vote in Missouri to Romney's 25 percent, and winning Minnesota -- a state Romney won in the 2008 primary -- with 45 percent of the vote. Romney came in third there with only 17 percent of the vote, finishing behind Rep. Ron Paul (R-Texas), who got 27 percent. Santorum won all 114 of Missouri's counties.
"Conservatism is alive and well in Missouri and Minnesota," Santorum crowed, at a rally in St. Charles, Mo. "Tonight was a victory for the voices of our party, conservatives and Tea Party people."
In Colorado, where Romney won the 2008 caucuses with 60 percent of the vote, Santorum also won. The state Republican party called the race for Santorum a few minutes after 11 p.m. (1 a.m. Eastern Standard Time), giving him a 40 percent to 35 percent win over Romney.
Romney has suffered setbacks before in this primary -- and Santorum has had a burst of momentum before, after his win in Iowa. But the former Massachusetts governor's losses Tuesday were the worst yet, even if technically no delegates were awarded. No amount of spinning by the Romney campaign about delegate counts could obscure what the night made crystal clear: their candidate remains unable to excite passion in the GOP and remains a long way from closing the deal with voters.
Romney is still in the best position to win the nomination, purely because he is the best equipped for a drawn out primary that requires organization and money. He can outlast Santorum, and former House speaker Newt Gingrich (R-Ga.), who had such a terrible showing that he didn't even hold an election night rally and gave no speech, but is nonetheless looking ahead to southern state contests in March.
"We've got a long way to go," Romney said as he closed his speech in Denver. He betrayed no anxiety about the night's results, appearing relaxed and confident.
But to Romney's chagrin, Santorum's largely symbolic victories Tuesday will bring him grassroots enthusiasm and money. And Santorum already has at least one wealthy benefactor willing to give big money to a super PAC supporting him. As Santorum spoke, billionaire investor and businessman Foster Friess stood behind him, reminding those who noticed of the $331,000 he gave the Red, White and Blue Fund even before Santorum narrowly beat Romney in Iowa on Jan. 3.
Santorum's big wins also injects real importance and potential for great political theater at a large gathering of conservative activists in Washington on Thursday, Friday and Saturday. Santorum, Romney and Gingrich will all speak Friday at the Conservative Political Action Conference, and the 10,000 or so attendees will take part in a straw poll, the winner of which will be announced on Saturday.
The Maine caucus results also will be announced on Saturday. And then, after this weekend, the campaign will hit a lull. There are no more contests until Michigan and Arizona hold primaries on Feb. 28.
If Santorum continues to gain altitude, the dead time in February could present a challenge for Romney. But conversely, the Romney campaign is well prepared for a messaging war, and will have plenty of time to wage a back and forth with Santorum over the TV airwaves and through the media.
The question now is how Romney responds. He gave a small taste in his remarks just before clocks struck midnight on the East Coast.
"Washington will never be reformed by those who have been compromised by the culture of Washington. This is a clear choice. I'm the only person in this race, Republican or Democrat, who has never served a day in Washington. And where I come from, leadership is about starting a business, not trying to get a bill out of committee," Romney said, drawing a contrast between himself and Santorum, and Gingrich too.
The Romney campaign also devoted an unusual amount of energy to attacking Santorum on Monday, a clear sign their own internal tracking numbers showed the coming drubbing.
But Santorum, who spoke before Romney on Tuesday night, signaled he was not going to step aside.
"Ladies and gentlemen, I don't stand here to claim to be the conservative alternative to Mitt Romney. I stand here to be the conservative alternative to Barack Obama," Santorum said.
And Santorum cast Romney, as has Gingrich, as a moderate.

"On those issues -– health care, the environment, cap and trade, and on the Wall Street bailouts -- Mitt Romney has the same positions as Barack Obama, and in fact would not be the best person to come up and fight for your voices for freedom in America," Santorum said.
A Republican consultant opposed to Romney said that "voters want a real conservative who isn't ashamed to campaign as one."
Democratic National Committee Chair Debbie Wasserman Schultz gloated as well.
"Republicans are giving the field of candidates another look, demonstrating that the more people get to know Mitt Romney, the less they like him," Wasserman Schultz said.
But Romney's political director, Rich Beeson, wrote a memo earlier in the day that laid out why the campaign is confident in its prospects over the long term.
"Speaker Gingrich's and Senator Santorum's campaigns have resource challenges. The remaining February states may not be kind to them, and their hopes for a comeback in March may be very difficult and based on an incomplete understanding of the delegate selection rules. Even 'success' in a few states will not mean collecting enough delegates to win the nomination," Beeson wrote. "In contrast, Governor Romney will be competing across the country and collecting delegates in state after state, even if other candidates pick up some wins."
"This is exactly the sort of methodical, long-haul campaign we planned for, and we are well on the way to victory," Beeson wrote.

Before You Go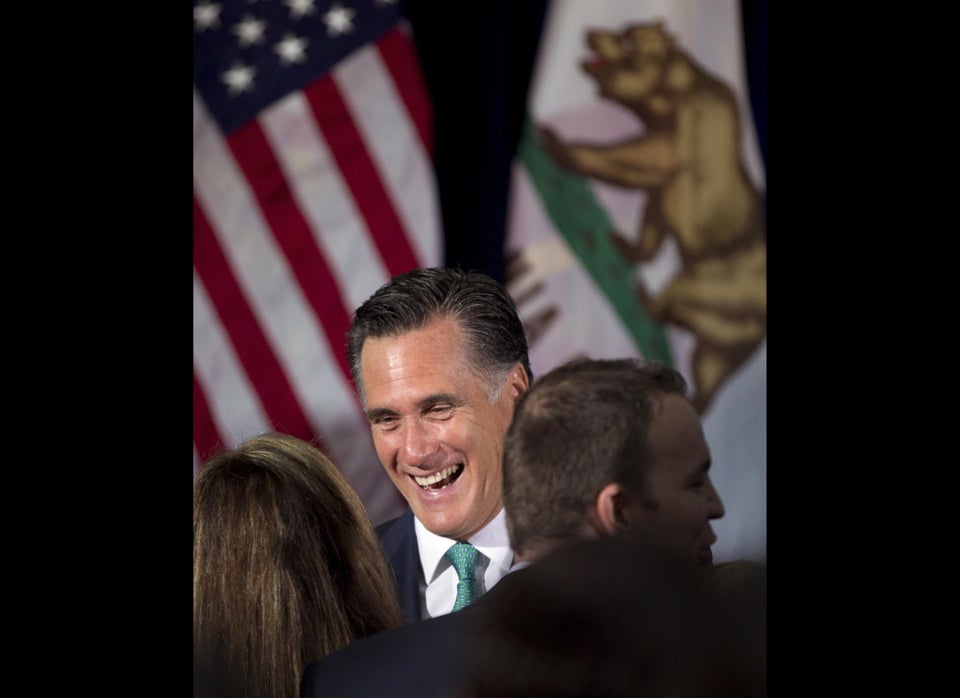 Mitt Romney 2012
Popular in the Community