WASHINGTON -- Making his first run for Congress in the early 1990s, this candidate promised not to be a Reagan Republican, fashioned himself a progressive conservative, said he was impartial on unions and stayed vague on abortion rights.
It's a description that fits Mitt Romney, the former Massachusetts governor whose past political pursuits in that state have weighed down his current presidential ambitions. But in this case, it applies to former Pennsylvania Sen. Rick Santorum, whose own political origins have been explored in far less depth.
In his circuitous path to the top of the primary polls, Santorum has presented himself as the pure conservative alternative to Romney. But an extensive review of newspaper archives and interviews with officials involved in his successful 1990 congressional race against Rep. Doug Walgren (D-Pa.) suggests that Santorum was cut from a similar GOP cloth as his current adversary.
Santorum insisted that he was the one who is more in touch. 'From child care to taxes, we're right for this district. This district has had enough of government sticking its nose constantly in our business,' he said, insisting nonetheless that he is not a Reagan Republican.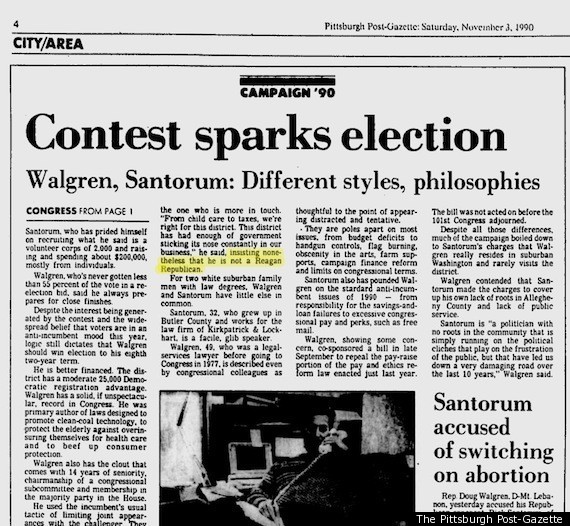 The Reagan line echoes Romney's own memorable remark from his 1994 Senate campaign, when he said that he didn't "want to return to Reagan-Bush."
Santorum reportedly made a similar statement on a separate occasion. According to an October 28, 1990 piece in the Pittsburgh Press, the afternoon newspaper that eventually became part of the Post-Gazette, he described himself as a "progressive conservative" in his campaign manual.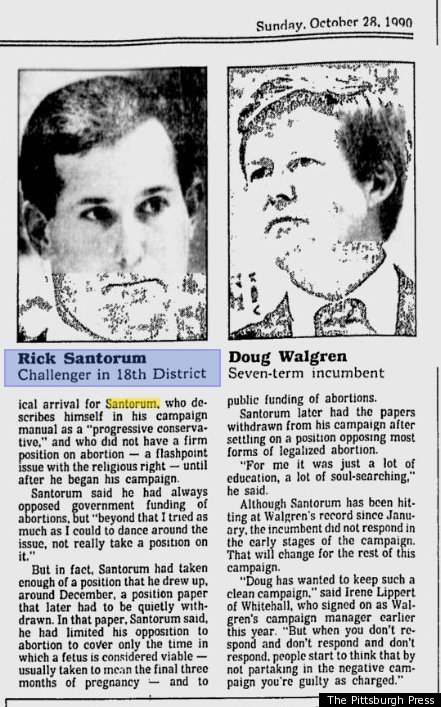 There is no additional evidence of Santorum referring to himself as a "progressive conservative." Nor is there an available copy of the manual referenced in that Pittsburgh Press piece. The Huffington Post reached out to its author, Dennis Roddy, who now works as a speechwriter in the Pennsylvania governor's office. Neither he nor the Santorum campaign returned a request for comment.
But William J. Green, a longtime political analyst who lived in the state's 18th congressional district at the time, said he wouldn't be surprised if Santorum had embraced the phrase.
"I could hear him saying he was a progressive conservative. He was younger then. And he was a neophyte when it came to this stuff," Green told The Huffington Post. "Remember, if you were a Republican, you were out-registered by almost 2.5 or three to one. And the idea then was to get that seat back in Republican hands."
When Santorum launched his long-shot campaign against Walgren, the centerpiece of his resume was his background in Republican politics. He had volunteered for the late Senator John Heinz (R-Pa.), and worked as an aide to Republican state senator Doyle Corman. His conservative roots were clear. But, as Walgren recalled, he was more of a tactician than an ideologue.
"There was no advocacy except trashing Doug Walgren that I saw or ever heard," Walgren said. "All I can say is his campaign was made primarily of leafleting. It was all negative leafleting and ... it was a complete slam on me."
The press coverage of Santorum's 1990 upset win reveals a politician who had not yet found the conservative voice he has today. Santorum referred to himself as a "moderate on labor issues" and said he supported right-to-work laws. He has since backed away from those planks, saying he'd adopt a different position as president.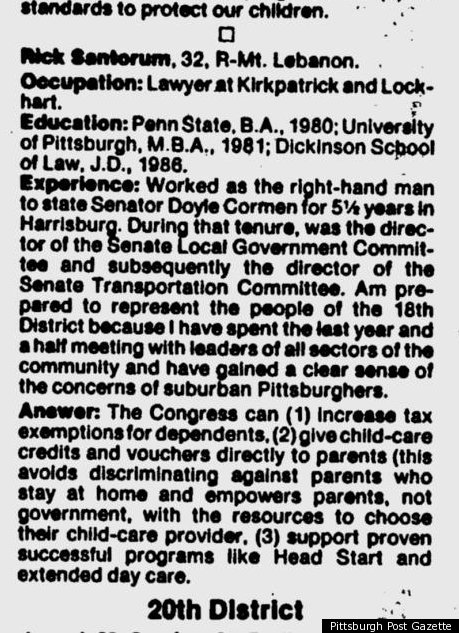 One Pittsburgh Press article reported that Santorum, along with Walgren, "supported cuts in defense spending" and "more research into alternative energy source[s]."
The context in which Santorum expressed each of these policy positions is important. Alternative energy was hardly the politically toxic topic it is today, many Republicans supported Head Start, and the Cold War was winding down, making defense cuts more palatable. If Santorum is to be accused of a rightward political drift, so too could the entire GOP.
There are also plenty of topics that came up during the 1990 campaign on which Santorum has remained consistent, including a strict opposition to tax hikes, an eagerness to tackle entitlement reform and vocal support for stay-at-home parents.
But even on issues like abortion -- a topic on which Santorum's strong pro-life credentials are rarely, if ever, questioned -- an internal evolution seemingly occurred. In that October 28 Pittsburgh Press article, he said he opposed government funding for abortions, but "beyond that I tried as much as I could to dance around the issue, not really take a position on it."
In a separate interview with the Pittsburgh Post-Gazette, Santorum said he evolved into a more hardened pro-lifer once he gave the issue more thought.
"That's where I am and where I've got to be," he said. "I can't give you an exact date when I arrived at a position. So it was a gradual evolution, I guess."
Jon Delano, a Pittsburgh political analyst who served as Walgren's chief of staff and now teaches public policy at Carnegie Mellon University's Heinz College, noted that "the Pennsylvania Republican Party back in 1990 was much more liberal than the party is today, led locally by pro-choice Republican national committeewoman Elsie Hillman, a cousin of then President George H. W. Bush."
A former aide to Walgren, meanwhile, said that when the campaign began researching Santorum, they identified him as a "pro-choice Republican."
"What he soon discovered was that he wasn't going to defeat a pro-choice Democrat unless he adopted a different position," the aide said. "By the election, he was an ardent pro-lifer and was making that one of his issues."
Indeed, by the time the campaign ended, with Santorum scoring a squeaker of an upset victory, his positions had crystallized. The anti-abortion political action committee LifePAC played a grassroots organizing role for his campaign, according to press reports, helping to solidify the shift. Walgren himself conceded that it was no longer possible to question Santorum's pro-life or ideological credentials.
"He was certainly seen from the time he took office as a real conservative," said Walgren. "By that time, he had essentially joined up with [Newt] Gingrich."
Max J. Rosenthal contributed reporting.
Popular in the Community