 Crazy Twitter rumor-mongering got a big assist from actual reportable news events today, when it turned out that Rick Santorum actually did suspend his campaign, some time after a Bloomberg reporter saw (what was thought to be) a Washington Post report crawl across their wire, reporting that Santorum was dropping out, reportedly. This set off a confusing time in our lives when half of the journalists on Twitter were retweeting Bloomberg's report of a report, while the other half were left to ask, "Wait, where are you hearing that?"
The origin of the mini-Twitter disaster seems to have emanated from Sarah Rabil, who is a mergers and acquisitions reporter for Bloomberg News, who acquired what she thought was a Washington Post scoop about Santorum's imminent departure and decided to merge with it.
Nine minutes after Rabil tweeted about a Washington Post story that did not yet exist, the Post's Aaron Blake was compelled to tweet out to the universe that his paper wasn't actually reporting anything of the sort.
That, of course, raised the stakes for the Post, who, in the process of confirming Santorum's suspension had to send another tweet that they were reporting the thing they said they weren't reporting back when they hadn't yet reported it.
A few minutes later, I tried to make a helpful suggestion...
...only to discover that our own Jon Ward was on top of this:
So, see, calling people and asking them about stuff actually works. Sometimes!
At any rate, Bloomberg White House press pooler Sabrina Siddiqui eventually sent out the apology -- which was nice of her, right? I mean, someone needed to do it.
And she added further explanation:
By the way, Bloomberg's eventual report on all of this came with an AMAZING headline: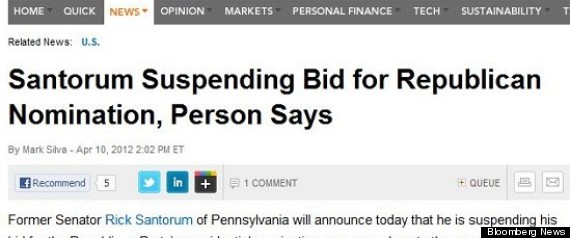 But look, this stuff happens and it will probably happen again, and God knows everyone who avoided being a part of the fact-free freak-out could well be the same ones who step in it the next time. To help thwart this, our own Ethan Klapper recommends that everyone read this piece in the New York Times, titled "A Lie Races Across Twitter Before the Truth Can Boot Up," about that time everyone was reporting that South Carolina Governor Nikki Haley was about to be indicted for tax fraud when, in reality, she totally wasn't:
The item's rapid journey from hearsay to mainstream journalism, largely via Twitter, forced Ms. Haley to rush to defend herself against a false rumor. And it left news organizations facing a new round of questions about accountability and standards in the fast and loose "retweets do not imply endorsement" ethos of today's political journalism.

There were elements of old-fashioned South Carolina sabotage: an embattled Republican governor and possible vice-presidential contender dogged by unproven accusations of impropriety. And there were modern twists: a liberal-leaning 25-year-old blogger eager to make a name for his new Web site, and a buzz-seeking political press corps that looks to the real-time, unedited world of Twitter as the first place to break news.
The blogger in question, Logan Smith, told the Times that he was relaying information obtained from sources who didn't end up being right about what they were saying: "I reported that credible sources said they believed the governor would be indicted -- not that I knew she would be indicted, or even whether or not I personally believed she would be indicted." Outside of the descriptor "credible," I suppose most of the rest of that was true? This is where it's good to make use of Bloomberg's own "person says" technique.
So, go read that Times piece, and try to play it safe on Twitter, everyone. Though maybe the Times played it too safe: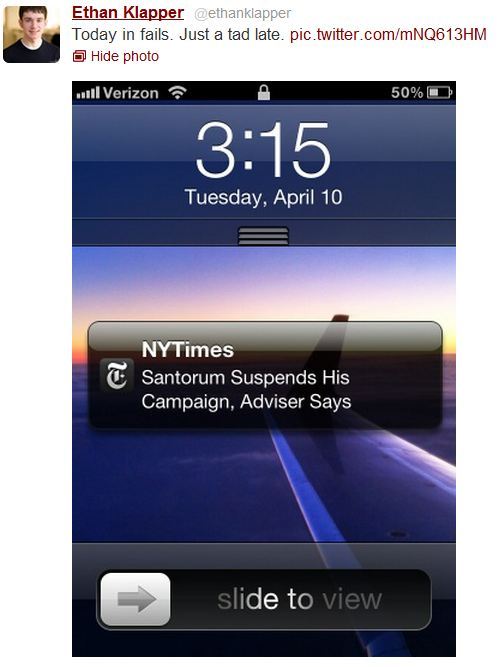 Calling all HuffPost superfans!
Sign up for membership to become a founding member and help shape HuffPost's next chapter