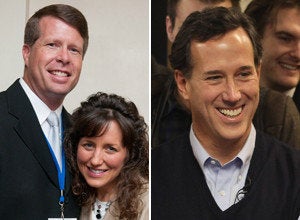 "You're not going to find the perfect candidate unless it's Jesus Christ," Jim Duggar said on Monday. With the Christian messiah sitting this one out, Duggar endorsed his second choice: Rick Santorum.
Duggar, the father of 19 and the star of the TLC show "19 & Counting," campaigned with 12 of his children for the former Pennsylvania senator on Monday, making multiple stops throughout Iowa in support of the Christian conservative Santorum.
"He's somebody that doesn't take a poll to know where he stands," Duggar told a crowd at a pizza joint north of Des Moines, the LA Times reports. "I'm asking families, Christians all over American to get behind Rick Santorum for the next president of the United States."
According to CNN, Duggar added that, "[Santorum] is somebody that goes and really just votes from his heart and votes on his convictions, votes on things based on the Constitution of the United States and the Bible. And that's the kind of man we want to support."
During his speech, the Arkansas resident told voters that he had been ignored by Mitt Romney four years ago when asking him a question about abortion coverage in Massachusetts.
According to ABC News, Michelle Duggar, the matriarch of the family, is recording robocalls for Santorum.
The Duggars have a history of political involvement. In 2007, they endorsed Mike Huckabee for president and in 2010 they accepted an award at the Values Voters Summit.
Popular in the Community