Former U.S. Senator Rick Santorum trails in the polls heading into Florida's primary election and is turning his attention to upcoming contests in other states.
Santorum is the first Republican candidate to appear in Missouri in advance of its Feb. 7 primary, which will essentially be a statewide public opinion poll. The Republican Party plans to award its presidential delegates in Missouri through a series of caucuses that begin in mid-March. Gingrich didn't get on Missouri's primary ballot while others who have since dropped out of the race will be listed alongside Romney, Santorum and Ron Paul.

Santorum said he still considers Missouri's primary to be important. Because of Gingrich's absence, it could allow Santorum to test his political strength more directly against that of Romney, who has been building a network of prominent Republican endorsements in Missouri.
Denouncing "Gutter Politics"
Santorum denounced the "gutter politics" of his opponents Monday as he turned his campaign away from a potentially futile effort in Florida in hopes of regaining momentum in the Midwest.

After spending what he described as a stressful weekend with his sick 3-year-old daughter, Santorum resumed his campaign at a suburban St. Louis community college -- assuring people that his daughter was improving and forecasting a political revival in swing states such as Missouri. He was to appear later Monday at a campaign event in Minnesota, which also is holding its caucuses next week.
HuffPost's Mark Blumenthal reports:
Six new polls released late Sunday or Monday found that Mitt Romney's lead over Newt Gingrich ranges from five to 20 percentage points.

Some of the largest margins came from four polls that reached voters over both landline and mobile phones, including three surveys released on Monday.

...

Voter uncertainty, a hallmark of the Republican primary campaign for months, remains a potential factor in the outcome of the Florida contest. The latest Quinnipiac survey finds that more than a quarter of the likely Republican primary voters in that state either are completely undecided (7 percent) or say they might still change their minds about the candidate they are supporting (24 percent of those with a preference).

Florida election officials reported on Monday that 591,666 votes had already been cast in early and absentee voting, a number that would represent roughly 30 percent of the votes cast in the state's 2008 Republican primary. Needless to say, those who have already cast ballots can no longer change their minds.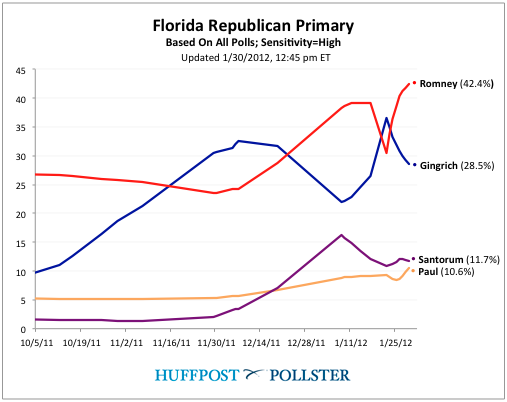 Check out the slideshow below for more on the Santorum campaign.
Calling all HuffPost superfans!
Sign up for membership to become a founding member and help shape HuffPost's next chapter
BEFORE YOU GO