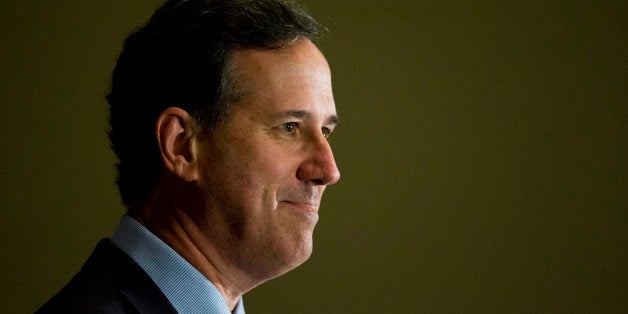 WASHINGTON -- When Republican presidential hopefuls face the television cameras -- and a national audience -- on stage at the first GOP debate next month, Rick Santorum likely won't be among them. The former U.S. senator from Pennsylvania ranks near the bottom of the GOP field in national polling and probably won't meet host Fox News' top 10 criteria to participate in the Aug. 6 debate.
But Santorum, a 2012 GOP runner-up who won the Iowa caucuses that cycle, isn't sweating it. The self-described "tortoise and hare guy" on Monday dismissed using national polling data as a measure of performance so early in the campaign -- especially at a time when most voters are not paying attention to the nominating process.
"To me it's a miscarriage by the RNC to agree to something like that," Santorum said of the Fox News debate threshold while speaking to reporters at a Christian Science Monitor breakfast. "Having said that, we'll play by the rules. I don't think our game plan has changed much."
The senator pointed to his underdog status in 2011, when he initially polled at just 1 percent in national polls. After he won in Iowa, Santorum added, he still polled only around 4 percent nationally.
"In the end, Iowa's going to cut this field down dramatically," he added.
Left unmentioned was his ultimate loss to Mitt Romney in a relatively smaller and weaker pool of potential candidates. This time around, however, Santorum must figure out how to connect with voters who may not see him as the only viable conservative alternative to the more traditional establishment pick. With 15 Republicans in the race as of now, all vying for the same donors, a more daunting challenge for an obscure candidate like Santorum is raising the funds required to run a campaign past March.
Asked to provide an early glimpse of his fundraising total before Wednesday's deadline with the Federal Election Commission, when all candidates for president must report hauls to federal regulators, Santorum gamely declined. Instead, he argued it isn't the amount that matters as much as what a candidate is able to do with it.
"I would make the argument that money is important. But what's money for? Money is to get you votes. So the most important thing is how effective are you in getting votes that you need in order to win an election," he said.
"Clearly, four years ago, we ran a race [in which we were] outspent four or five to one, and still operating primarily because of the super PAC situation," he added. "I don't think this time around we'll see that kind of dynamic. Four years ago, you had an establishment candidate that everyone backed, including the vast majority of super PAC donors. I just don't think there is that candidate this time."
Several of Santorum's rivals last week reported multimillion-dollar tallies, including a combined $114 million from former Florida Gov. Jeb Bush and his allied super PAC. Santorum isn't likely to raise such amounts, acknowledging that he didn't "really see any opportunities in the next six months to break out." But the battle-tested candidate argued he is in it for the long haul nevertheless.
"What I believe is that if you can get down to the serious business of [voters] judging who they want to be their president, not who they're enjoying at the moment, not who gets them excited ... but in the end, who they would want to sit behind the Resolute desk? I think it's a different calculation," he said. "What I do know is that we passed that test before, and I think we can pass that test again."
Calling all HuffPost superfans!
Sign up for membership to become a founding member and help shape HuffPost's next chapter
BEFORE YOU GO
PHOTO GALLERY
Declared 2016 Presidential Candidates