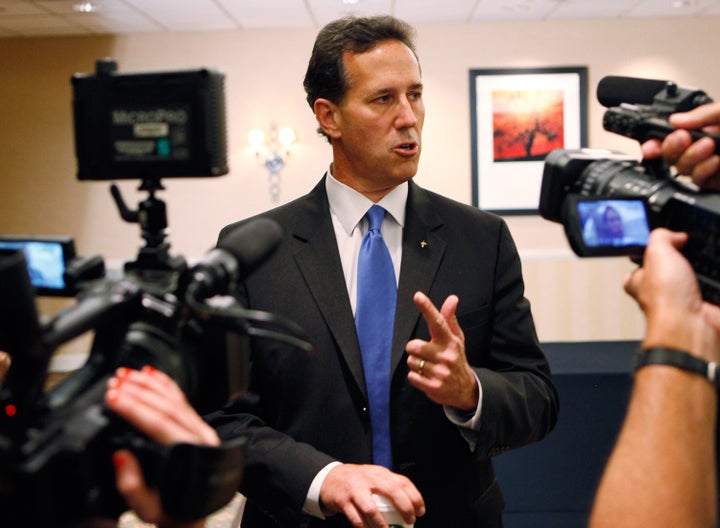 During a stop in Iowa on Thursday, Republican presidential candidate Rick Santorum said that "schools indoctrinate our children," the Des Moines Register reports.
"You wonder why young people can vote and flock for a guy like Barack Obama and say, if you look at the surveys, that socialism is better than capitalism -- well, that's because they don't understand America," he explained, according to the Register. "I said 'indoctrination' and I meant it," he said.
Santorum argued that the country's education system is leaving students with an insufficient grasp of history. His remarks come with the widely-anticipated Ames Straw poll -- a table-setter event for next year's Iowa caucuses -- less than two weeks away.
"I think it would be great to finish in the top half," Santorum said ahead of the straw poll, Iowa-based station KTIV reports. "I think that would surprise a lot of people." According to the local outlet, the GOP contender predicted he could defeat Obama in a general election match-up should he win the Republican presidential nomination.
Santorum is out with a new web ad touting his presence on the trail in the Hawkeye State.
"They all claim to have what it takes to lead America, but one of them is now on an epic trip that will prove beyond doubt he possesses the courage, fortitude and remarkable patience it will take to be president," says a narrator in the spot. "Twenty-five hundred miles in nineteen days with seven kids in two minivans and one thousand three hundred sixty-two 'are we there yets?'" It's the Santorum Iowa family tour, now starting week two."
The White House hopeful's campaign website describes the ad as "Santorum's Political Version of Family Vacation."

Popular in the Community