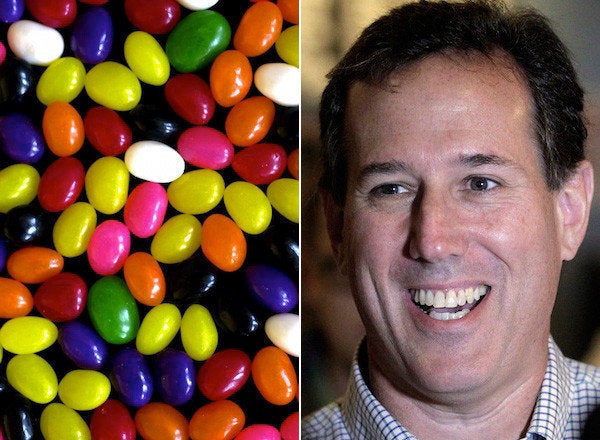 In September, Herman Rowland, a Fairfield candy manufacturer and GOP donor, gave $2,500 to Texas Gov. Rick Perry, then a contender for the Republican presidential nomination.
In November, as Perry faded, Rowland gave $1,000 to former House Speaker Newt Gingrich. In December, he gave $2,500 to Mitt Romney, now the GOP front-runner.
Nevertheless, this afternoon, Rowland's Jelly Belly Candy Co. will be the venue for a "Rally for Rick," as Romney's chief challenger, former Pennsylvania Sen. Rick Santorum, makes a campaign swing through Northern California.
As the San Francisco Chronicle notes, Santorum's visit to Fairfield is partly an homage to former President Ronald Reagan. Reagan loved jelly beans, and the factory features a jelly-bean portrait of The Great Communicator.
Rowland's hosting of the Santorum rally is another case of a California Republican supporting more than one candidate during this prolonged race for the nomination. As California Watch has reported, records show that some 67 Californians have donated to two or more of the GOP presidential contenders.
In recent months, Rowland also has donated to Reps. Dan Lungren of Sacramento, ($2,500) and Tom McClintock of Granite Bay ($1,000); Jeff PAC, a committee set up by Rep. Jeff Denham of Fresno, ($2,500); and Kim Dolbow Vann, one of six Republicans who hope to square off against incumbent Rep. John Garamendi, a Walnut Grove Democrat, in a redrawn congressional district.
He's also given to Nebraska Attorney General Jon Bruning, a GOP candidate for U.S. Senate ($2,500) and the Tea Party Express ($500).
Before the rally, Santorum is attending a fundraiser in Alamo. Perhaps before he leaves California, Rowland will give him a donation, too.
Lance Williams and Agustin Armendariz are investigative reporters for California Watch, a project of the non-profit Center for Investigative Reporting. Find more California Watch stories here.
REAL LIFE. REAL NEWS. REAL VOICES.
Help us tell more of the stories that matter from voices that too often remain unheard.