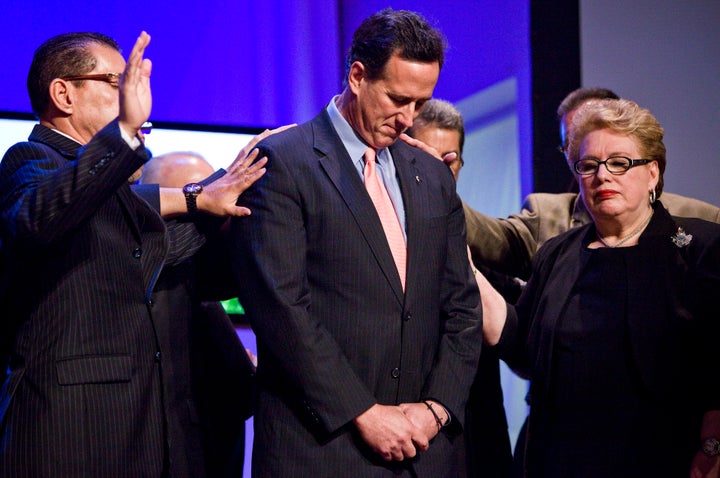 WASHINGTON -- On Friday, as Mitt Romney continued to consolidate establishment support for his presidential candidacy within the Republican Party, getting the endorsement of Rep. Paul Ryan (R-Wisc) days ahead of the Wisconsin primary, Rick Santorum soldiered on in a seemingly different quest.
"Kennedy took words written to protect religion from the government and used them to protect the government from religion," Santorum said, referring to the phrase "separation of church and state."
Santorum then compared Kennedy to former Turkish President Mustafa Kemal Atatürk, who in 1923 ushered an era of secularism into the majority Muslim country by helping to establish the Republic of Turkey.
"What JFK advocated sounded more like Ataturk than [Founding Father James] Madison - that religious ideas and actors were not welcome in public policy debates," Santorum wrote.
Kennedy was seeking in 1960 to become the first Catholic president in U.S. history, at a time when anti-Catholic sentiment was still a factor in politics. Some expressed a concern that Kennedy, if elected, might take instructions on how to govern from the pope in Rome.
But, Santorum wrote, "Ultimately Kennedy's attempt to reassure Protestants that the Catholic Church would not control the government and suborn its independence advanced a philosophy of strict separation that would create a purely secular public square cleansed of all religious wisdom and the voice of religious people of all faiths."
Kennedy remains the only Catholic to have been president of the United States.
Santorum said that public policy-making should be based on "natural law."
He defined natural law as that "which can be known through the exercise of reason against which the positive or civil law must be measured and if needed amended."
And he called for more vigorous public debates over which moral vision -- essentially whose definition of what the "natural law" is -- should shape the direction of government policy.
"Obviously, not everyone shares the Judeo-Christian moral convictions," he wrote. "All of us have an obligation to justify our positions based upon something that is accessible to everyone irrespective of their religious beliefs. We owe the public arguments based upon reason grounded in truth."
Santorum's decision to write such an essay is as clear a sign as any that even if he does not win the GOP nomination, he wants to use his time as a competitive candidate to shape the public debate. Such an essay holds little political upside, since it will only draw attention to his inflammatory comments in the past about Kennedy.
But Santorum is not only trying to influence public discourse, he appears to still be working out for himself how to reconcile his own visions of how to pursue a just society with the intense anti-government mood of the conservative grassroots.
Support HuffPost
The Stakes Have Never Been Higher
Popular in the Community