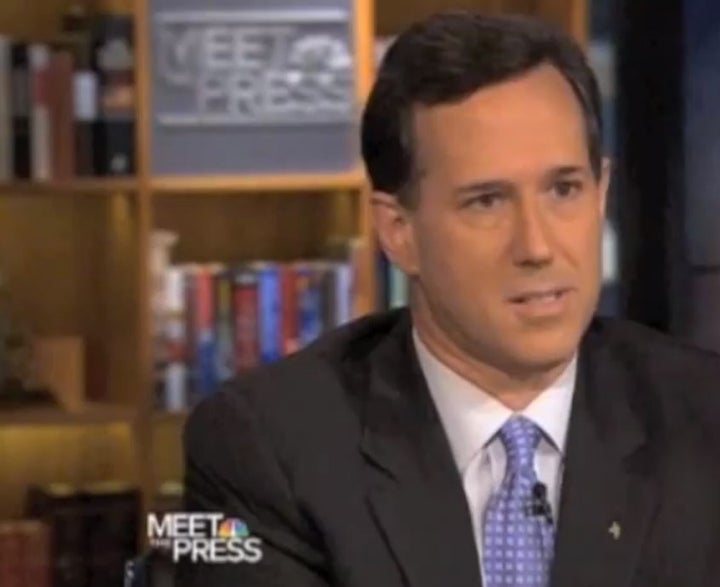 Comments from GOP presidential hopeful Rick Santorum during a June Meet the Press roundtable have gained new context in light of his recent appearance at an Ohio Christian Alliance event, where he said that the U.S. public school system is "stuck in the factory era."
During the roundtable, Santorum defends a quote from his best-selling book It Takes a Family, which according to The Hill, reads as follows:
"Never before and never again after their years of mass education will any person live and work in such a radically narrow, age-segregated environment," Santorum wrote. "It's amazing that so many kids turn out to be fairly normal, considering the weird socialization they get in public schools."
He continues to note that home-schooling, by contrast, allows for children to interact "in a rich and complex way with adults and children of other ages ... and in general a lot better socialized than their mass-schooled peers."
"Where else in America, outside of school, do kids go to a place where they sit with people basically the same age, same socioeconomic group, and interact for, for a defined period of time?" Santorum says during the roundtable. "That's not what life is like. Life is very different than that."
During the discussion, Santorum maintains that parents should be heavily involved in their children's education.
"We need to transform public education to reflect more of what the dynamism is in the private sector, and that includes a whole way of infusing parents into the system," he said. "I would say that it's not the federal government's job to overhaul public education. What I would do is talk about how we need to make some transformation, but it should be left to the states and localities to do that."
These are sentiments Santorum continues to echo. In a campaign event in Idaho last week, the candidate once again noted his plan to home-school his children in the White House, if elected, and denounced heavy governmental evolvement in the education system. He said that for the "majority of the time in this country," parents "actually controlled the education of their children. What a great idea that is."
Related
Popular in the Community