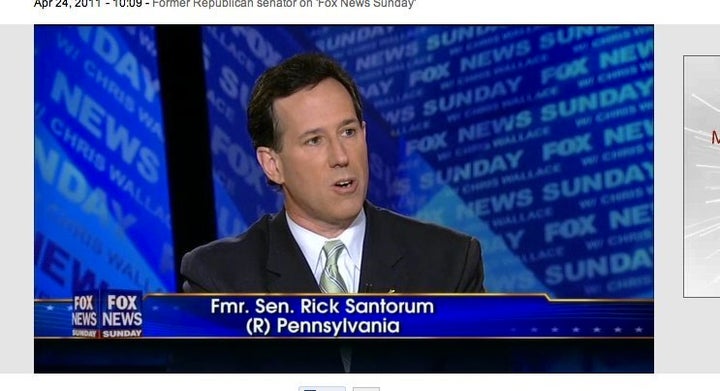 Former U.S. Senator Rick Santorum said he made "a mistake" when he cast a vote in favor of the Medicare prescription drug benefit while in office during an appearance on this weekend's edition of "Fox News Sunday."
In addressing his support for the legislation in question in 2003, the presidential aspirant said Republicans did two things wrong with the entitlement program.
"Number one, we made it universal," he said. "In other words, we had a problem that was about 15 percent of seniors didn't have prescription drugs. And we -- and the president compromised with the Democrats, President Bush, to provide a universal benefit."
Santorum added, "I was against that. I spoke against it. I worked against it, but we lost." When pressed on his vote for the entitlement program by Fox News host Chris Wallace, the former senator said, "I voted for it for a lot of reasons beyond the Medicare prescription drugs, for example, Medicare Advantage."
CNN relays background on the legislation:
Medicare Part D is a federal program that subsidizes the costs of prescription drugs for Medicare beneficiaries. It was passed through Congress in 2003, went into effect in 2006 and has since added billions to the deficit while coming to the aid of millions of Americans.
The second thing Santorum said members of his party did wrong was not funding the entitlement program. "That was not an option on the table at the time that we were voting for it," he explained.
Earlier this month, Satorum launched a presidential exploratory committee for the next election cycle. He has described himself as a "tortoise" and overlooked in the GOP field, though with the hope that would eventually change. The former senator recently signaled that whether or not he decides to officially run for president comes down to his ability to raise sufficient funds to conduct a competitive campaign. He said on Sunday morning that he could be expected to announce his plans for 2012 in the upcoming weeks.