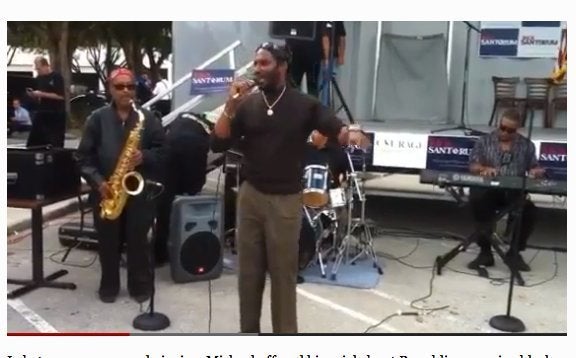 In a state known for its questionable contributions to national politics, Rick Santorum is really bringing the heat. The GOP candidate tried to court South Florida African-Americans on Sunday by aligning himself with an outspoken pastor who fell from grace with fellow conservatives and a former cult member once charged in two grisly murders -- and who announced Sunday at a Santorum event that Democrats are akin to Nazis.
"The Democrats, they're the worst thing that ever happen to the black man," Michael the Black Man told a Santorum rally in Coral Springs. "They're the slave masters."
"Republicans were the ones that freed the black man," he said..."Democrats were totally against us. They were the slave masters. Why in the hell would I vote -- not one good, righteous Jewish would ever vote for any German from the Nazi Party... And no black man under any condition should work with any white man that's a Democrat -- under no condition."
View Michael's intro at Santorum's Coral Springs rally below:
"Blacks are not going to vote for anyone of the Mormon faith," Dozier said. "The book of Mormon says the Negro skin is cursed."
Dozier believes Santorum's sermon at the Worldwide Christian Center was a step toward making him the preferred choice of black conservative voters.

"He came to a predominately black church, and he began his campaign at the most impoverished, HIV-invested area of South Florida," Dozier said. "That will be a big boost to blacks Americans. The conservative blacks want a man who is principled."
Popular in the Community