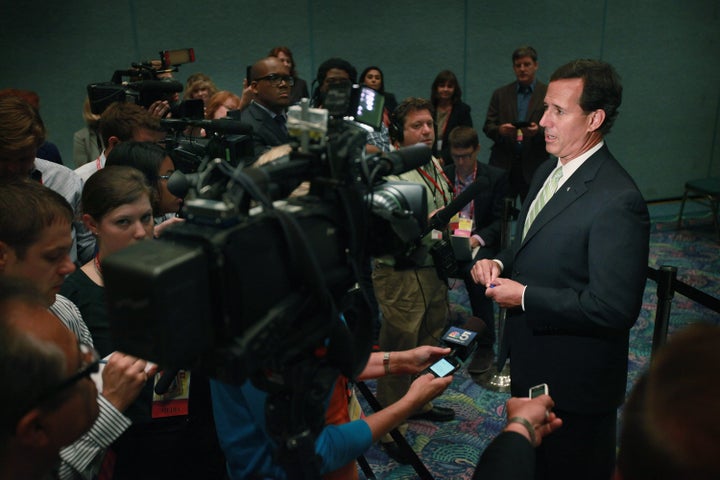 CHICAGO -- Rick Santorum just can't fake it.
The former Pennsylvania senator and defeated Mitt Romney rival has never been very good at hiding what's on his mind or in his heart. It's what brought him so far in the Republican presidential primary. It's also what kept him from going further. And now, as he tries to squeeze himself into the role of surrogate for his former foe, it makes him a somewhat uncomfortable fit.
Santorum arrived at a gathering of conservative activists in Chicago Friday having generated some decent buzz with the creation of a new advocacy group, Patriot Voices. He wants to attract one million members "committed to promoting faith, family, freedom and opportunity."
The group is a way for Santorum to retain influence and leverage his surprisingly strong primary performance. It's also a way for him to remain proactive, positive and invested in something he believes in, rather than becoming just another one of Romney's scalps to display.
Santorum greeted a handful of supporters and posed for photos in a back room an hour before he was scheduled to speak at the Conservative Political Action Conference. Then he turned to face a gaggle of reporters and said nothing, waiting for the inevitable barrage of questions about Romney.
They came. Santorum said some nice things.
"I think Governor Romney has stood firm on the positions he articulated during the primary. I'm actually very encouraged by that," he said.
But he was flat and listless, in contrast to the fire he showed so often on the campaign trail.
After the fourth or fifth Romney-related question, Santorum was forced to give the most enthusiastic embrace of Romney he seemed capable of mustering.
"I've been involved in a lot of elections in my days, and there are no absolutes," he said. "There are pretty stark differences between Governor Romney and his record and President Obama. The differences are profound and important to the future of our country. We cannot afford four more years of President Obama."
"Governor Romney is a tremendous improvement," Santorum added. "I think we could have been even more of an improvement, but that's, you know, that's, that, that, that, that issue was passed. Uh, Governor Romney is an important and dramatic improvement, and that's why we're behind him."
Santorum then walked out of the room and over to a radio booth to talk with WLS Chicago talk radio. One of the hosts asked if he was "going to be a forceful advocate for Romney on the trail."
"Uh, I have been and will be," Santorum replied.
This is not exactly true. Santorum endorsed Romney late on a Monday night in May, in the 13th paragraph of an email to supporters. He gave his endorsement only after securing an hour-long meeting with Romney in Pittsburgh, close to where Santorum grew up. He has yet to appear publicly with Romney.
The radio host pressed Santorum again. "But you kind of have to keep Governor Romney's feet to the fire, because you know that the tendency will be to 'Etch A Sketch' the whole thing," he said.
"It's a dual mission," Santorum acknowledged.
He clarified that his comment was "not necessarily targeted at Governor Romney" but rather "targeted at everybody." "It's targeted at every House member, at every Senate member, and we need to make sure that the things they say on the campaign trail are the things they do when they get elected," Santorum said.
But the context was all about Romney.
A bumper sticker at the conference seemed to sum up Santorum's state of mind: Next to Romney's smiling face ran the words, "At least he's not a communist!"
Foster Friess, the wealthy Wyoming investor who bankrolled the super PAC that essentially kept Santorum's candidacy afloat financially, seemed to have an easier time with the idea of supporting Romney.
"I think, being results-oriented, I said, 'OK, Rick has made his decision, and now how do we get this country where it needs to be?' So now, what's my option? Mitt Romney," a perpetually smiling Friess told The Huffington Post.
Friess had his own speaking slot at the conference, a way of recognizing him for the $1.6 million he poured into the pro-Santorum Red, White and Blue Fund.
Yet in an interview, the 72-year-old financier couldn't help sinking into a bit of reverie about the former candidate. "You cannot find many people like a Rick Santorum. Because people compared Santorum and Romney ..."
"You know, my dad told me, 'If at first you don't succeed, find out what second place is worth.' And so in this situation, OK, I didn't succeed in helping Rick get the nod, but second place is pretty exciting compared to what we could have if President Obama selects two more Supreme Court justices," Friess said.
When he endorsed Romney, Santorum said he planned on keeping the lines of communication open, but he said Monday that he hasn't spoken to Romney since then.
Calling all HuffPost superfans!
Sign up for membership to become a founding member and help shape HuffPost's next chapter