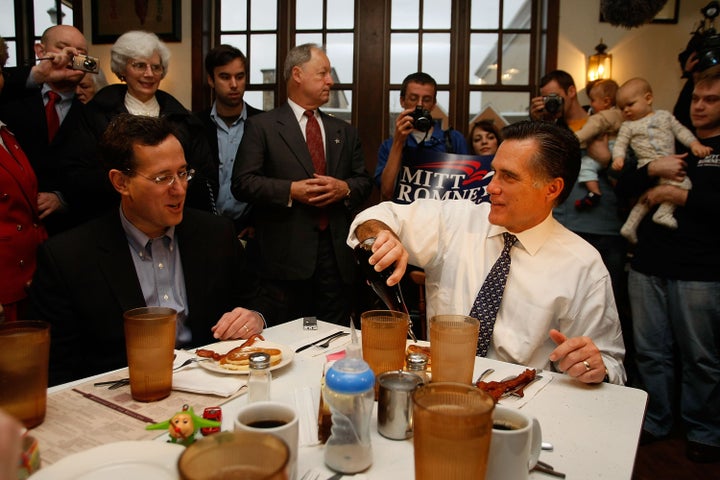 WASHINGTON -- With months to go before Republicans begin casting votes for a presidential nominee, one of the defining features of the primary campaign has been the tepidness of the attacks on the perceived front-runner, Mitt Romney. That might be because several of the candidates who could stand to gain by taking the former Massachusetts governor down a notch effusively backed him during the 2008 campaign.
The fact that Herman Cain endorsed Romney four years ago is fairly well-known. The former CEO of Godfather's Pizza, who now leads the field in several public opinion polls, praised Romney's problem-solving acumen and his business world experience in a syndicated column.
But the endorsement Romney received from former Pennsylvania senator and current Republican presidential candidate Rick Santorum three days prior has attracted less attention.
"I spent an hour and a half with this guy and I can tell you, he understands it," Santorum said on "The Laura Ingraham Show" on February 1, 2008, according to a transcript of the show that was posted on Romney's 2008 campaign website. "We talked almost all that hour and a half about Iran. He was not only curious, but had some very interesting insights and ideas. He understands the national security piece. I walked away from there saying, 'Ok, I can check that box. This guy really gets it. He understands it. He has a depth of knowledge about it.'"
"He knows what it means to be a Commander-in-Chief under these circumstances, as John McCain effectively does in fighting the war overseas," Santorum continued. "But just as importantly is fighting the war here at home, where John McCain has had a horrible record in protecting us here at home."
"Well Senator, you're on a roll, you're on a roll right now," Ingraham replied.
"If you're a conservative, there really is only one place to go right now," Santorum added. "I would even argue farther than that. If you're a Republican, if you're a Republican in the broadest sense, there is only one place to go right now and that's Mitt Romney."
A Santorum endorsement did not a nomination make. Six days later, Romney told a stunned crowd at the Conservative Political Action Conference (CPAC) that he was bowing out of the race.
Four years later, Santorum seems likely to have a similar amount of impact on the presidential primary race. But that doesn't make his past praise for Romney insignificant. The Pennsylvania Republican has been itching to play the role of attack dog, similar to what former Sen. Chris Dodd (D-Conn.) did to Hilary Clinton during the 2008 campaign.
"I didn't get much of a chance to do sparring, it's hard when they don't give you a, when they don't put you in the ring," Santorum said after Tuesday's debate in New Hampshire. "I forced myself in on a couple of occasions to make some comments. They'll be other days for hopefully Governor Romney to have to be on stage with a more limited audience on the dais, but right now I've got to show that I'm the most electable conservative in the race. "
Should that dais grow less crowded, and should Santorum ever challenge Romney's conservative bonafides, that past endorsement could be a helpful arrow in the quiver.

Popular in the Community