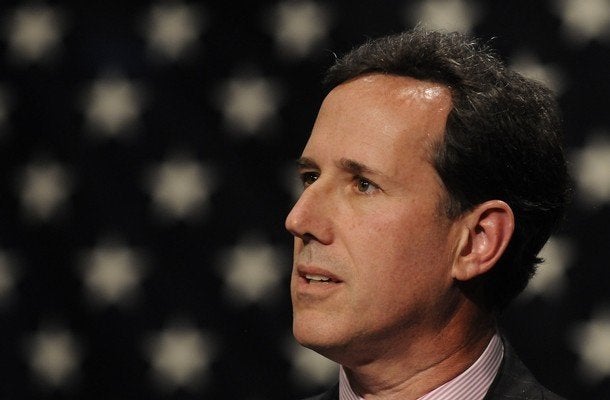 WASHINGTON -- Likely Republican presidential candidate Rick Santorum was a fervent crusader against abortion rights while in the Senate and told reporters on Thursday that he is fully behind Republicans' push to defund Planned Parenthood of America and hopes Indiana Gov. Mitch Daniels (R) signs a bill to defund the organization.
The reason for his opposition to the reproductive rights group isn't just that it offers access to abortion -- it's that Planned Parenthood is motivated, he says, by racism and eugenics.
"I can't imagine any other organization with its roots as poisonous as the roots of Planned Parenthood getting federal funding of any kind," said Santorum. "This is an organization that was founded on the eugenics movement, founded on racism. It's origins are horrific. You can say well, it's not that anymore. It's not far from where it was in my opinion in its activities and its motivations."
He made the remarks to reporters at the National Press Club in Washington, D.C., following his foreign policy speech hosted by the Ethics and Public Policy Center.
When pressed by The Huffington Post about how the organization remains similar to the origins he ascribed to it, Santorum argued that their clinics are "historically [in] places where there are high concentrations of minorities, for example, and their advertising is geared toward that."
WATCH (Video by The Huffington Post's Adi Cohen):
Veronica Byrd, Planned Parenthood's director of African-American media, quickly responded to Santorum's remarks.
"Rick Santorum has stooped to using race as a wedge issue to launch a highly political attack ON Planned Parenthood," she said in a statement. "The truth is that the doctors and nurses who deliver care at Planned Parenthood's more than 800 health centers provide women from every community with basic preventive care, including lifesaving breast and cervical cancer screenings, Pap tests, annual exams, testing and treatment of sexually transmitted infections, and HIV testing. Like other American women, African-American women understand that Planned Parenthood works every day to make sure that all women have access to high quality, affordable health care."
According to the Guttmacher Institute, fewer than one in 10 abortion clinics "are located in predominantly African-American neighborhoods, or those in which the majority of residents are black."
Santorum has made similar comments about Planned Parenthood in the past, and the right frequently argues that Planned Parenthood founder Margaret Sanger supported eugenics to rail against the modern organization.
Supporters of Planned Parenthood acknowledge that Sanger (who lived from 1879-1966) made controversial remarks about eugenics but argue that they're irrelevant to what the organization currently does.
"In reality, Margaret Sanger was a person whose work paved the way for legal access to contraceptives in this country. Sanger's personal beliefs on eugenics were and are wrong and do not hold any place in the mission of reproductive justice or reproductive health care providers," wrote Pamela Merritt on RH Reality Check. "We do not associate the Ford Motor Company with anti-semitism, despite the well documented history of it's founder Henry Ford in collaborating with Nazis and we should not associate contemporary reproductive health care providers or the reproductive justice movement with eugenics because of some views expressed by Margaret Sanger."
Data show that low-income women have more abortions than wealthy women do, and since black women are more likely to be poor than white women, they also have more abortions.
But as Shani Hilton has written at The American Prospect, this doesn't necessarily mean that they are being coerced into them.
"The only thing it proves is that black women are disproportionately having pregnancies they didn't intend," wrote Hilton. "According to the Guttmacher Institute, the top two reasons all women give for having abortions are that they don't have the support of a partner and that they cannot afford to have a child. There's no reason to believe that black women have abortions with a different motivation."
Last month, a Texas group put up billboards on the South Side of Chicago that feature a picture of President Obama's face alongside the words, "Every 21 minutes, our next possible leader is aborted." Rev. Derek McCoy, the public face of the Life Always billboard campaign, told The Huffington Post that they are trying to get across the message that the high incidence of abortions among black women is decimating the black community and killing off potential black leaders.
Arizona recently passed -- and Kansas is currently considering -- a bill that outlaws abortions that women want performed on the basis of the race or gender of the fetus, although state lawmakers could not point to any evidence that such abortions are occurring in the U.S.
Update: This article was edited after publication to include a quote from Pamela Merritt and to correct that Santorum was talking about the bill in Indiana.
Support HuffPost
The Stakes Have Never Been Higher
Popular in the Community