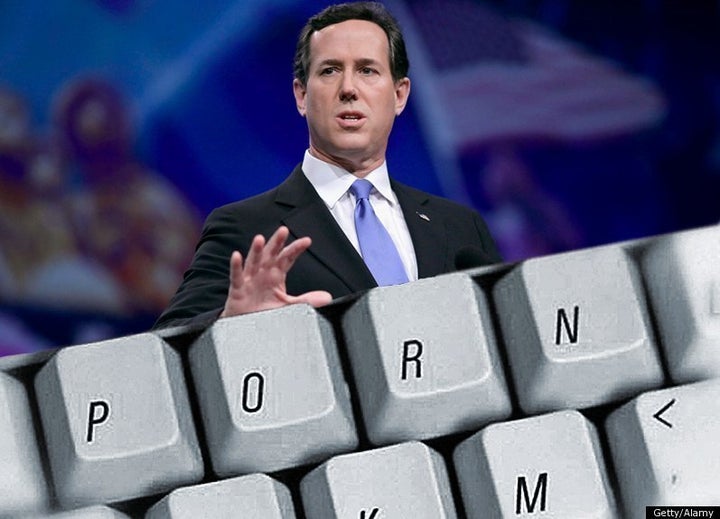 As Americans we live in a free and tolerant society, but apparently Rick Santorum and Malika Saada Saar want to change that.

Mr. Santorum has called for a ban on pornographic movies and websites, arguing that "obscenity" causes brain damage, ruins marriages, leads to prostitution and sex trafficking, and "contributes to misogyny and violence against women." Recently Ms. Saar wrote in a blog on the Huffington Post that she is "disappointed by the left's summary dismissal of Santorum's proposed idea to ban porn." She claims, wrongly, that "mainstream porn is now hard-core and celebrates the debasement of the female body."

I have always found it interesting that some people feel compelled to control the lives of others. These self-appointed morality police believe they are better suited than you to decide what you can watch and what you should think. They want laws passed that take away our First Amendment freedoms; we should all hope that they do not succeed.

There is nothing that we as Americans value more than our individual freedoms, which are for everyone, not just select groups. When we start picking and choosing who gets to enjoy which freedoms, we've all lost our liberty.

Speaking for myself and my company Vivid Entertainment, I believe that Ms. Saar and Mr. Santorum are out of touch. Their arguments don't hold up to scrutiny. Lets look at the facts: The FBI, National Crime Victimization Survey, Centers for Disease Control and Prevention, and other credible organizations actually report a drop in rapes, teen pregnancies and sex crimes since 1991, when porn first became widely available on the Internet.

Even in the medical community prominent couples therapists frequently recommend that their patients watch adult films to help strengthen their relationships. Would this make sense if women were being degraded? Would doctors dare even consider such treatments if this were the case?

But whether or not we personally watch or even approve of pornographic material, we live in a country where anyone can say what he or she pleases as long as it does not harm others. And no less than The Supreme Court has repeatedly affirmed that this translates to what people are allowed to watch in the privacy of their own home.
Allegations of misogyny are also untrue. Women increasingly control the adult business. There are many women who own adult companies. Women decide which movies they want to perform in, what scenes they are comfortable with and who their partners will be. No woman is forced to act in an adult film; they do so of their own free will.

Two of our most popular directors are women who have won multiple awards for their work -- Kimberly Kane and Tristan Taormino. Taromino's sexually instructive Vivid-Ed series portrays popular sexual activities in a positive way, and we are proud of what they've accomplished.
In summary, this is 2012, and many women like to watch porn, and therefore companies like ours celebrate women and their power in our movies. We are hardly "waging a war on women" as Ms. Saar suggests. To the contrary, women speak to us loud and clear from the marketplace, with female viewership of our programming more than doubling in the last 10 years.

Steven Hirsch is the founder and co-chairman of leading adult film studio Vivid Entertainment.
Calling all HuffPost superfans!
Sign up for membership to become a founding member and help shape HuffPost's next chapter