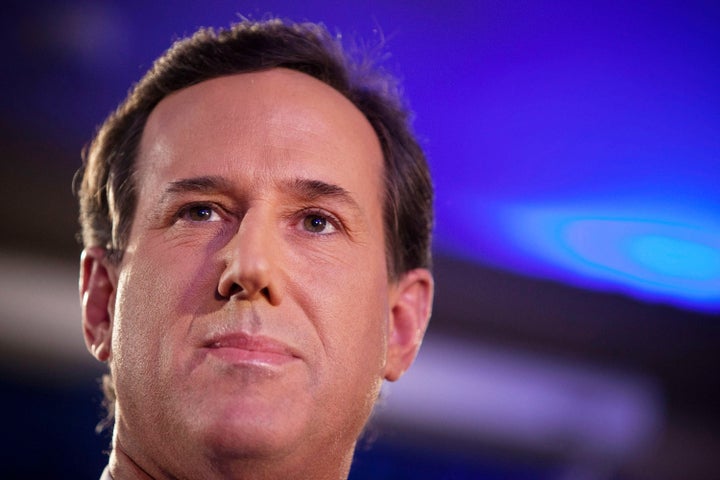 WASHINGTON -- As a Republican senator from Pennsylvania, Rick Santorum occasionally sided with labor unions to raise the minimum wage and protect striking workers. But now he's trying to reassure GOP voters that, if he becomes president, he'll take very different positions.
On "Fox News Sunday," host Chris Wallace asked the GOP presidential candidate about his vote against a national right-to-work law and his support for the Davis-Bacon Act, which requires government contractors to pay the prevailing wage. Right-to-work laws bar unions from automatically collecting dues from workers' paychecks at private companies.
"I think if you look back in my track record, I think I had about a 9 percent big labor voting record. You picked out the two," said Santorum. "And you need to remember, I was from the state of Pennsylvania. State of Pennsylvania does not have a right-to work-law. The state legislature and our governor for a long time had rules in place that were inconsistent with right-to-work. And I wasn't, as United States senator representing the state of Pennsylvania, going to go down and by federal vote change the law on the state. I believe the state has the right. If they want a union dues requirement, then the state should be able to do that."
"As a president, I [would] have a very different point of view," he added. "I have already signed a letter and sent it to the national right to work that I would sign a national right-to-work bill because now, I'm no longer representing that state. And by the way, the same thing with respect to Davis-Bacon. My feeling was, again, representing that state, which has a large segment of contractors that work under those provisions, that I would protect that right."
Bloomberg News noted recently that Santorum had a "mixed record" on the minimum wage during his time as a senator, but a 2006 pro-Santorum publication put out by the Pennsylvania Republican Party noted "50 Things You May Not Know About Rick Santorum." The twenty-third was that he "wrote legislation that would increase the national minimum wage."
In 2006, his last year in office, he had a 13 percent lifetime rating from the AFL-CIO for his labor record -- not exactly making him the union's strongest ally.
Wallace pressed Santorum on how his logic about his pro-labor votes was any different from Mitt Romney's on health care, when he was putting in place a plan that best represented the interests of his state -- even though it's unpopular with conservatives nationwide.
"Well, if I was governor of Pennsylvania, I would have worked to change those laws," said Santorum.
When Wallace pointed out that he was one of the state's two senators, he replied, "I would change those laws within Pennsylvania. But I'm not going to have the federal government change the law for the state of Pennsylvania. It's a very different thing. You work within the people of your state to promote the ideas that you believe in. But you don't have the federal government impose those on the state when the state decided differently."
Popular in the Community