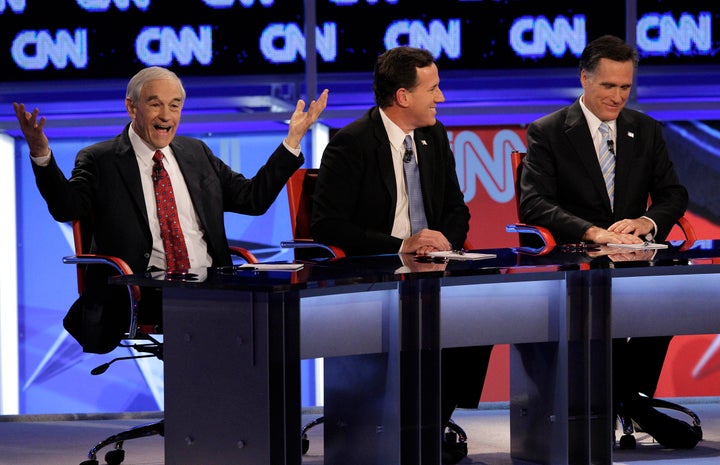 WASHINGTON -- Rick Santorum and Ron Paul are best positioned to win the most delegates in Iowa as the Republican primary process moves forward, making Mitt Romney the odd man out, state insiders told The Huffington Post.
Santorum and Romney finished first and second on Jan. 3, with Paul finishing about 3,000 votes behind the 29,000 votes Santorum and Romney both got.
Rep. Paul (R-Texas) is currently estimated by The Associated Press to have zero delegates in Iowa. The AP numbers give former Sen. Santorum (R-Pa.) 13 delegates and former Massachusetts Gov. Romney 12. But Iowa Republican operatives scoffed at the AP figure.
"Can I just be bold and tell you that they don't know what they're talking about," Steve Scheffler, one of the state's three Republican National Committee members, told The Huffington Post. "Our delegates are not tied to the percentages of who got what in the straw poll."
"That's just not valid information at all," he reiterated. "That's just not correct information at all."
But as he is likely to find out in many caucus states, Santorum faces a roadblock: Paul's passionate and organized supporters, working to position themselves for spots as delegates at the national convention in Tampa, Fla., this August.
"They're going to be feisty and they're going to fight," said Craig Robinson, a former state GOP official who now writes a popular state politics blog, The Iowa Republican.
"I think that Santorum will get the delegates he should get but I think Ron Paul will get way more delegates than he should get," Robinson said, adding that he worries that Paul could potentially give Iowa a black eye by winning the most delegates.
The winner of Iowa's caucuses has already changed once, after the state Republican Party announced Santorum the winner three weeks after saying Romney had won the night of the caucuses.
"It would be terrible for Iowa if you had Romney the winner on caucus day, three weeks later Santorum, and then three months later Ron Paul," Robinson said.
But Paul's supporters are not worried about the state's reputation. They just want to snatch delegate spots, and are prepared to use all the flexibility allowed by the rules to get them.
"Ron Paul's respecting the voters of Iowa and the delegates of Iowa who represent them by campaigning for delegates. He didn't just stop at the straw poll on Jan. 3," said Drew Ivers, a member of Iowa's 17-member central committee who was a co-chair of Paul's campaign in Iowa.
Paul's supporters drew attention this past Saturday when they caused a ruckus at several county conventions in Iowa. In Polk County, which includes Des Moines, they urged the county chairman, Kevin McLaughlin, to allow them to nominate delegates to the state convention who had not been elected at the Jan. 3 caucuses.
"They gave us the impression that we owed them something," McLaughlin told HuffPost. "It was like, let's throw out the rules and do it our way. And let's throw temper tantrums if you won't."
Ivers, sensitive to that criticism, said that Paul's supports were "engaging in the normal healthy process."
"It seems to be a little bit concerning among some of the regular Republicans that we are respectful enough to ask for delegates, and because the other [campaigns] are not it makes us an exception," Ivers said.
It's not as if the Paul movement in Iowa is simply a bunch of outsiders crashing the gates of the state GOP. In fact, the state party chairman -- as of early February -- is another former co-chair of Paul's presidential campaign in Iowa, A.J. Spiker. Spiker was elected by the central committee after former chairman Matt Strawn resigned.
Spiker automatically gets one of the 28 delegate spots at the national convention. He did not return an e-mail seeking comment, but Spiker is a likely vote for Paul at the convention.
Yet the Paul line of attack in Iowa is both a frontal assault and an under-the-radar operation. Ryan Rhodes, a Tea Party activist in Iowa, said that as the delegate process goes forward to the congressional district conventions on April 21 and then the state convention on June 15 and 16, there will be an element of suspense about which delegates running for national convention spots are Paul supporters.
"You're not going to know how half these people vote until Tampa. You might have Ron Paul people in there who you won't know how they're going to vote until they get into the arena," Rhodes told HuffPost.
"Because the other three [campaigns] are doing very little, there tends to be some caution about the Ron Paul people," Ivers said. "So it does tend to drive the Ron Paul supporters a little more quiet in the way they speak about the candidate. A little more cautious is a better word."
The common theme among Iowa Republicans who spoke with HuffPost is that Paul's supporters have been the only ones who are noticeably aggressive and active so far in angling for delegate spots at the two remaining conventions in the state, all with an eye toward landing as many of the 28 delegate spots for Tampa as possible.
But Santorum is very popular among a great number of Iowa's grassroots conservative base, and so he too is expected to get around half of the delegates.
"If I had to be a betting man I would say that the Santorum and Ron Paul campaigns are best positioned to get their fair share of delegates," Scheffler, the Iowa RNC member, said. "That's where I see most of the energy coming from."
That leaves Romney as potentially the odd man out, getting just a handful of delegates. Such a scenario would only be possible if Romney and Santorum were still locked in a close fight. Romney's state co-chair, Brian Kennedy, did not return phone calls.
But if the national primary does remain competitive through May or June, that will make conventions in many states into high-stakes battles for delegates to the national convention, essentially setting the stage for a floor fight in Tampa.
If that is the case, Santorum is looking to caucus states like Iowa, and other primary states like Arizona where delegate rules are very loose and open to interpretation, in order to chip away at the delegate lead that Romney has in current estimates. The AP count has Romney with 495 delegates to 252 for Santorum, 131 for former House Speaker Newt Gingrich, and 48 for Paul.
The magic number that clinches the nomination is 1,144 delegates.
The only problem for Santorum is that his attempts at prying delegates away is limited by the Paul campaign's determination to secure their own number of seats in Tampa.
Popular in the Community