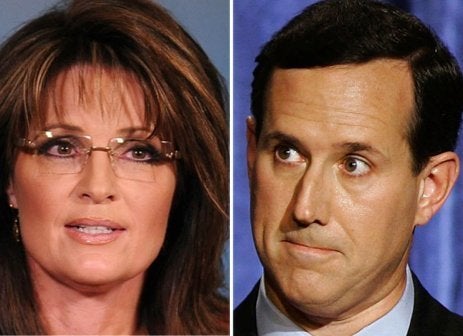 Former Pennsylvania Sen. and possible 2012 GOP presidential candidate Rick Santorum provided a questionable analysis of Sarah Palin's decision not to attend the annual Conservative Political Action Conference this weekend, saying that it might have something to do with the former vice-presidential candidate's priorities being focused on engagements that promised more "financial benefit."
"I have a feeling that she has some demands on her time, and a lot of them have financial benefit attached to them," Santorum, who will be at CPAC, told conservative commentator S.E. Cupp on a radio program Tuesday, according to Politico.
Santorum then noted that Palin likely had "other business opportunities," seemingly implying that the former Alaska governor's standard $100,000 speaking fees for her "prior obligations" were more important to her.
The former Pennsylvania senator also appeared to take a sarcastic swipe at Palin's family dynamic.
"I don't live in Alaska and I'm not the mother to all these kids and I don't have other responsibilities that she has," Santorum, a father of seven, said.
Palin's absence from CPAC this year won't be a new phenomenon. She didn't attend the previous three, either.
As Politico reports, other guests this year will include potential 2012ers such as Michele Bachmann, Newt Gingrich, Mitt Romney, Mitch Daniels, Tim Pawlenty, Rick Perry, Haley Barbour and John Bolton.
In a tweet on Wednesday morning, Santorum called the story from Politico "garbage." Linking to the piece, he wrote, "This article is garbage.All I said was- she is VERY busy, PERIOD. Reporter trying to create something out of nothing."
Calling all HuffPost superfans!
Sign up for membership to become a founding member and help shape HuffPost's next chapter