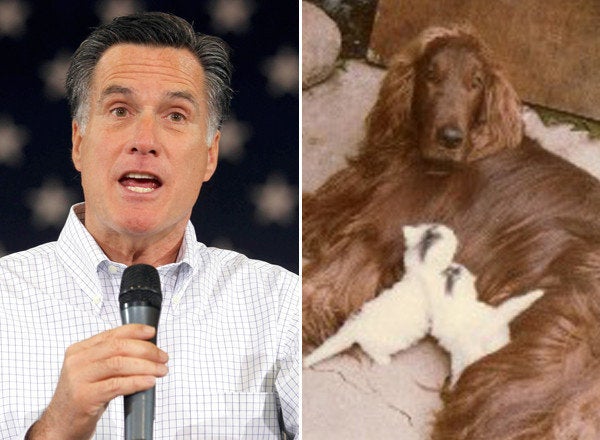 WASHINGTON -- If the way Mitt Romney treated his dog 30 years ago is not an important part of the 2012 presidential election, Rick Santorum's campaign didn't get the memo.
Twice last week top Santorum adviser John Brabender reminded voters that Romney once drove to Canada with the family dog, Seamus, in a crate fastened to the roof of the car. And on Sunday, in response to a question from Jonathan Karl on ABC's "This Week," Santorum said the Seamus story is important.
"As far as Seamus the dog, look, all I would say is, the issues of character are important in this election, and we need to look at all of those issues and make a determination as to whether that's the kind of person you want to be president of the United States," Santorum said.
Many dog lovers believe that what is being called "Crate-Gate" thoroughly disqualifies the candidate. An online group called Dogs Against Romney has pushed the story ever since the Boston Globe first reported the 1983 incident in 2007. During the 12-hour trip, Seamus suffered diarrhea and Romney stopped briefly to hose off the car and the dog, then continued driving, according to the newspaper.
The Romney campaign does not have a sense of humor about the story and has kept quiet about it. The candidate has said that he loves his dogs and that Seamus enjoyed riding on the roof. As governor, Romney in 2006 proclaimed September "Responsible Dog Ownership Month" in Massachusetts.
Karl predicted that the Seamus story won't go away.
"All right, well, Seamus the dog -- I think we'll be hearing more about him going forward," he said.
Calling all HuffPost superfans!
Sign up for membership to become a founding member and help shape HuffPost's next chapter