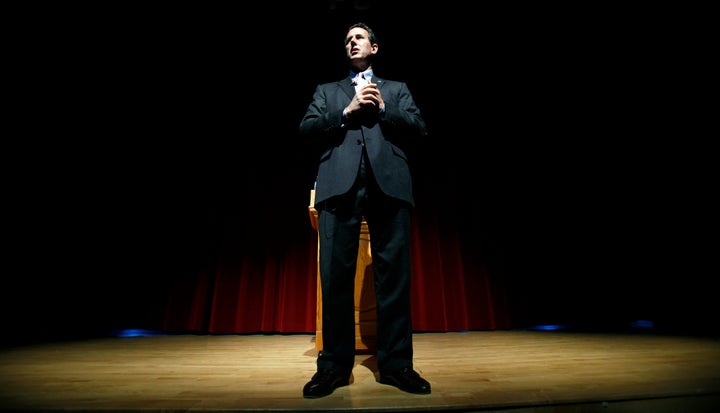 COLUMBIA, South Carolina (Reuters) – Republican Rick Santorum got credit for showing up and won a 2012 presidential straw poll of party activists in the crucial early voting state of South Carolina, organizers said on Saturday.
Santorum, a conservative from Pennsylvania, was the only presidential candidate to attend the South Carolina party's annual dinner on Friday night. He won 150 out of 408 votes cast in the presidential preference poll of dinner attendees.
That trounced second-place finisher Mitt Romney, the former Massachusetts governor, who received 61 votes. In third place was former pizza executive Herman Cain with 44 votes.
Three others finished with more than 20 votes -- real estate tycoon Donald Trump with 29, New Jersey Governor Chris Christie, who has repeatedly said he will not run, with 22 and U.S. Representative Michelle Bachmann with 22.
Many South Carolina Republicans were annoyed that the party's highest profile candidates skipped the first 2012 Republican presidential debate they sponsored on Thursday. It was attended by five lesser known candidates.
Those five -- Santorum, Cain, U.S. Representative Ron Paul, former Minnesota Governor Tim Pawlenty and former New Mexico Governor Gary Johnson -- were invited to speak at the dinner, but only Santorum showed up.
"To those who didn't come, you get a pass this time but you sure as hell better come next time," Republican U.S. Senator Lindsey Graham of South Carolina said at the dinner.
Votes in the poll were cast for a total of 16 different potential candidates in a slow-starting and unsettled Republican nominating race that has not produced a clear front-runner.
The other candidates to register in double-digits in the poll were former U.S. House of Representatives Speaker Newt Gingrich and former Arkansas Governor Mike Huckabee with 16 and Indiana Governor Mitch Daniels with 15.
Others who tallied single-digit totals included Paul with 8, Pawlenty with 7, former Alaska Governor Sarah Palin with 6 and former U.S. ambassador to China Jon Huntsmann with 4.
(Reporting by John Whitesides; Editing by Chris Wilson)
Calling all HuffPost superfans!
Sign up for membership to become a founding member and help shape HuffPost's next chapter