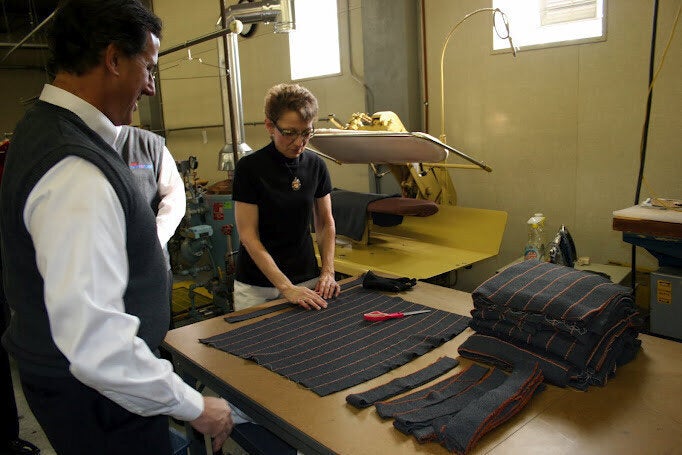 The presidential hopeful's campaign bought at least $138,800 worth of sweater vests from Bemidji Woolen Mills, according to campaign finance reports released in March. The orders, which began in January, have more than doubled sales for the 92-year-old, family-run business, its co-owner Bill Batchelder told the Huffington Post.
"The whole world has changed for our little company," Batchelder said. "It's like a gift from God."
To meet Santorum's request for the shipment of more than 3,000 custom-made sweater vests since mid-January, Batchelder rebuilt five sewing machines that hadn't been used for years, brought retired employees back and added a new employee to his now 27-person team.
In Santorum's Gettysburg speech Tuesday announcing the end of his candidacy, he spoke at length about his trademark wardrobe. "Amazing thing that sweater vest. It happened on a night I was doing an event for Mike Huckabee in Des Moines. I showed up and everybody was in shirts and ties, and I showed up in a sweater vest," Santorum recalled.
"Turned out I gave a pretty good speech that night, and all of a sudden the Twitterverse went wild, saying it must be the sweater vest."
Amid the excitement on the Internet over Santorum's vest, a welcome respite from the attention paid to his "Google problem," the presidential hopeful called Bemidji Woolen Mills to order 25 sweaters, which he handed out at South Carolina's primary. The next week, Bemidji received an order for 1,000 sweater vests, to be given to donors who give at least $100.
Santorum said he chose to go with Bemidji Woolen Mills as the campaign's primary sweater supplier, in part because the manufacturer made all of its products in the United States.
"I will never move my production overseas," said Batchelder, an elected delegate to the Republican National Convention. "Sewing costs are much higher in the U.S., but I'm content with staying small as long as I can provide for my family and employees."
At a recent RNC dinner, former Minnesota Gov. Tim Pawlenty asked Batchelder when Bemidji Woolen Mills was going to start making "Mitt Wear."
"I told him I'm not opposed," Batchelder said. "After all, I already make Obama blankets."
A look back at the evolution of the Rick Santorum sweater vest: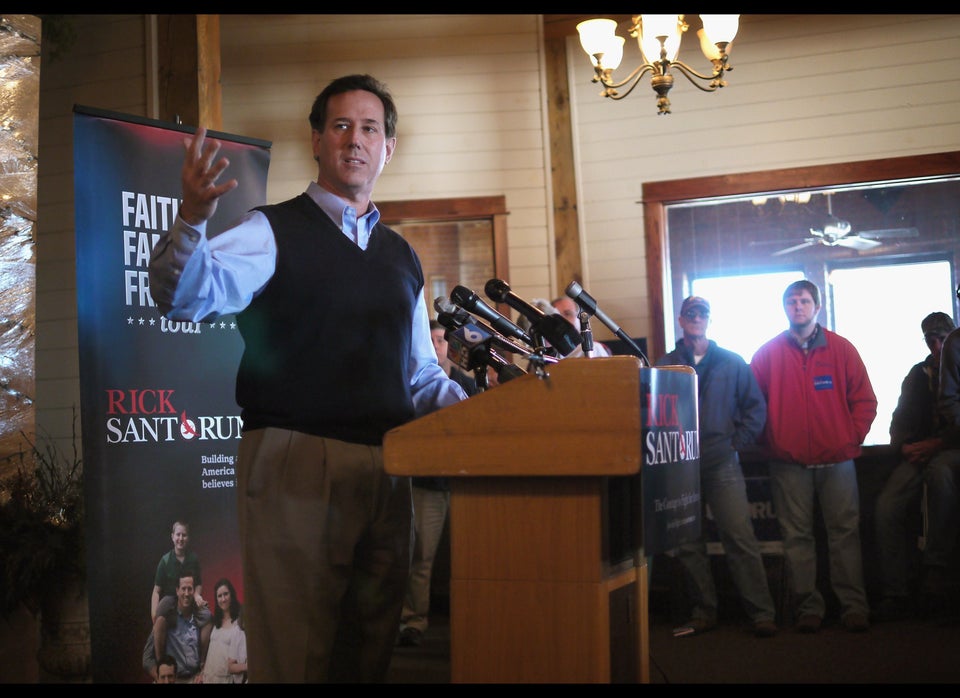 Rick Santorum sweaters vests
CORRECTION: A previous version of this reported misstated the amount of money Rick Santorum campaign donors must contribute to receive a sweater vest. The actual amount is $100, not $300.
Popular in the Community