Mitt Romney's got his slick suits, Ron Paul has his baggy blazers and now the world knows just how many sweaters vests Rick Santorum owns.
We first noticed the GOP candidate's professor-esque trend in mid-December, when Santorum layered a beige vest over a blousy blue button-down shirt. He has been wearing the Joseph A. Banks item more and more, often with baggy pleated pants and too-big shirts for a look that certainly says "traditional" (or, y'know, "really geeky").
So why the sweater vest? We're assuming it started as a misguided attempt at, well, getting dressed in the morning. But now that it's become a sort of weird signature, Santorum has decided to capitalize on all the attention.
When asked by CNN's Erin Burnett about the "Rick Santorum" logo on his gray sweater vest yesterday, the candidate got all excited:
"We're selling 'em now! We're selling them online! You can get them, I think, for... $100?"
When Erin laughs in incredulity at the price tag, Rick explains that it's partially a campaign donation. But it's also partially an opportunity to make an awful pun. He asks a staffer off-screen, "Should I give the line?"
So Burnett makes him say it: "One of my supporters said this is my Second Amendment vest: the right to bare arms."
As Erin says, "So bad that it's good." So bad that you can even get your own!
See the wonder that is Rick Santorum's vested style: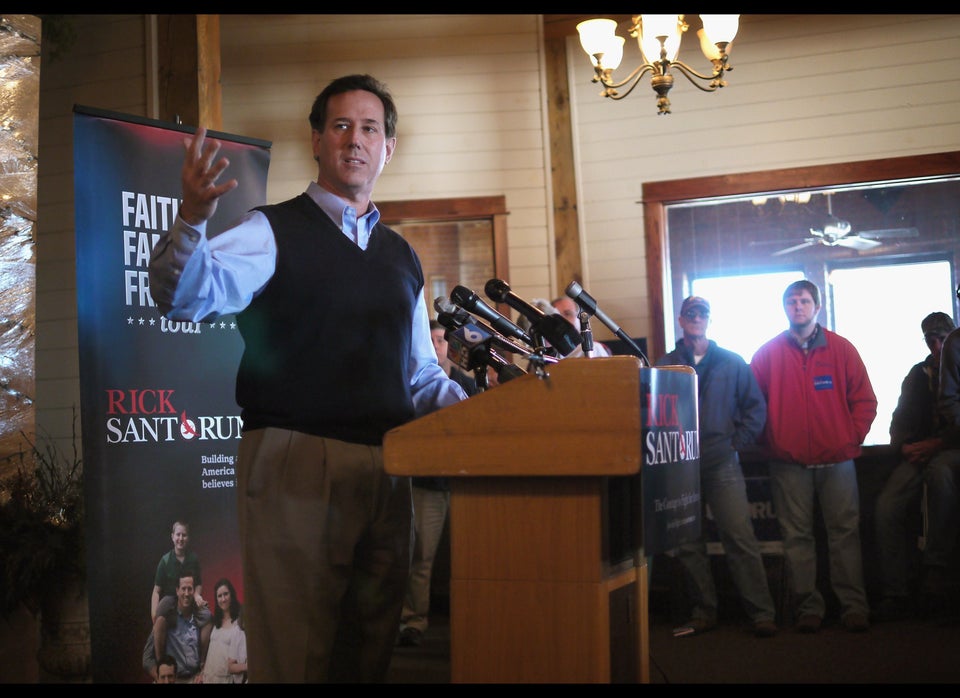 Rick Santorum sweaters vests
Related