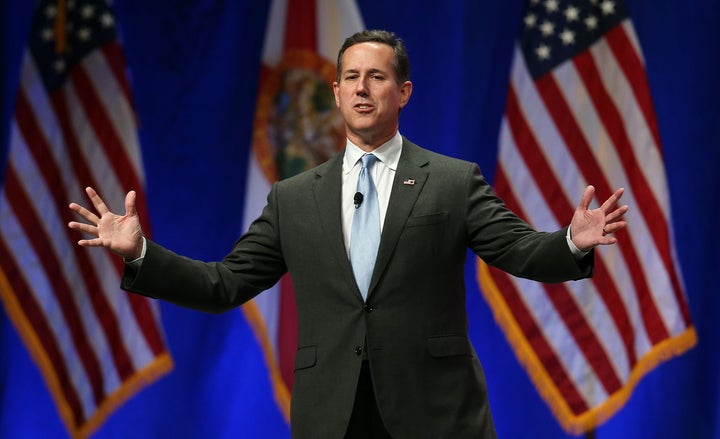 Republican presidential candidates Sen. Ted Cruz (Texas) and former Sen. Rick Santorum (Pa.) are coming to the aid of their colleague Sen. David Vitter (R-La.) in the final week of his Louisi­ana gubernat­ori­al run­off cam­paign.
On Sunday, National Journal reported the two presidential hopefuls recorded robocalls voicing sup­port for Vitter, who is trailing Democratic Louisiana state Rep. John Bel Edwards in the heated race. The Vitter campaign told National Journal that Sen. Marco Rubio (R-Fla.) is expected to do the same.
Vitter's involvement in the 2007 "D.C. Madam" prostitution scandal resurfaced after a tough Edwards attack ad alleged Vitter "chose prostitutes over patriots" by skipping a vote honoring U.S. troops. The senior senator from Louisiana addressed the controversy in his own ad last week, saying he "learned that our falls aren't what define us, but rather how we get up, accept responsibility and earn redemption."
Vitter's campaign has since gone after Edwards for skipping a can­did­ate for­um on Thursday to at­tend a meet-and-greet at a "risqué adult" nightclub.
In his call on behalf of Vitter, Santorum said he was "appalled" by Edwards' decision to attend the event:
"I must ad­mit I am ap­palled. Just last week, a group of Chris­ti­an churches, the Fam­ily For­um, hos­ted a gubernat­ori­al for­um and in­vited both can­did­ates. Only Dav­id Vit­ter at­ten­ded. Demo­crat John Bel Ed­wards can­celled an ap­pear­ance at the state's pro-life de­bate in fa­vor of at­tend­ing a voter drive held at a risqué adult hip-hop nightclub in New Or­leans. You just can't make this stuff up. Please vis­it Hayride.com to see the video foot­age."
Cruz's call, in contrast, placed more emphasis on early voting.
There's nothing unusual about senators recording calls for fellow members of their own party. But as social conservatives who regularly stress the importance of family in private and public life, Cruz and Santorum might not be the best messengers given Vitter's own faults in that area.