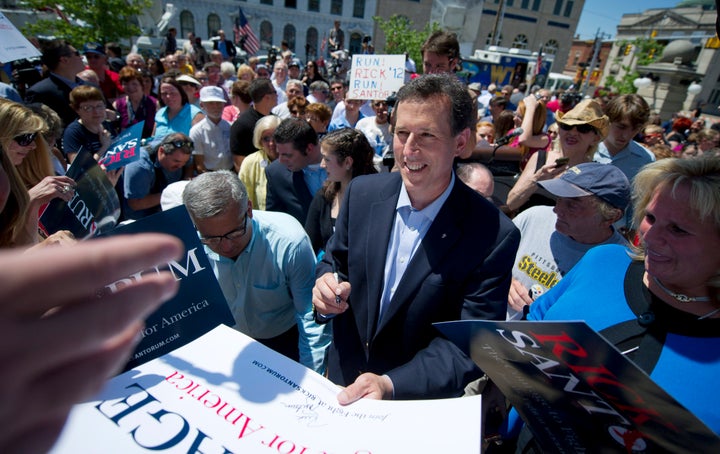 WASHINGTON -- Former Pennsylvania Sen. Rick Santorum, who announced his bid for president Monday, has spent the past four years serving on the board of Universal Health Services Inc. (UHS), one of the country's largest and most troubled hospital chains.
It turns out Santorum may have had a more personal stake in railing against President Barack Obama's signature health care legislation and beating the drum for less government intrusion in our health care system. Both federal and state officials have routinely cited UHS for a seemingly endless number of violations, ranging from Medicaid fraud to patient neglect and abuse. Investigations have uncovered everything from riots to rape to homicide at UHS facilities.
During Santorum's tenure on the UHS board, state documents and court records show, patients at UHS health care facilities have endured systemic failures that have cost millions in court settlements. In several instances, the company and its subsidiaries have been threatened with losing the ability to take in federally-subsidized patients. At various times, states have stopped sending children to UHS facilities. And in the last few years, the King of Prussia, Pa.-based mega-company has been the subject of two Department of Justice lawsuits accusing the chain of fraud.
According to UHS' website, Santorum currently sits on the board's compensation committee and the nominating/corporate governance committee. Santorum's committees appear to play no direct role in overseeing the actual operations of the hospitals. But the board -- like any corporate board -- is responsible for maintaining oversight and making sure facilities are safe and do not violate the law.
He was appointed to the board in April 2007. UHS CEO and chairman of the board, Alan B. Miller, said in a press release at the time, "Rick Santorum has a long record of accomplishment and leadership and will provide valuable advice to the board."
Through his campaign, Santorum refused to comment about his ties to UHS nor the allegations concerning the hospital chain. "I would encourage you to contact UHS about these allegations," replied spokesperson Virginia Davis via email. "If I have any additional contact from Sen. Santorum I will let you know."
In response to The Huffington Post's inquiries, UHS refused to elaborate on Santorum's role as a board member. "UHS has always made quality and patient safety its highest priorities at all of our facilities," the company said in a statement released to The Huffington Post. "UHS has been one of the leading providers of mental healthcare services for over 25 years because of our commitment to quality and patient-focused programs. All of our facilities are licensed by their states, nationally accredited and/or certified and in good-standing. As a company, we strive to always provide the best possible treatment in a safe environment."
According to the company's SEC filings, as of Feb. 28, 2011, UHS owned 25 acute care hospitals and 206 behavioral health centers located in 37 states, Washington, D.C., Puerto Rico and the U.S. Virgin Islands. The company also owns or manages seven surgical hospitals and surgery and oncology centers. The filings state that the company and/or its affiliates currently face at least seven lawsuits addressing allegations ranging from patient care to wage disputes among employees.
On Oct. 30, 2009, a McAllen, Texas, hospital group owned by UHS agreed to pay the U.S. government $27.5 million to settle allegations of what amounted to medical payola, or providing kickbacks or "illegal compensation" to doctors in an effort to pressure them to funnel patients to its hospitals, according to a DOJ press release. The payments were disguised via "shame contracts" including medical directorships and lease agreements.
Department of Justice attorneys, along with their counterparts in Virginia, filed suit in March 2010 against a UHS facility based in Southwest Virginia charging that operators had committed Medicaid fraud. The facility billed itself as an inpatient psychiatric facility for youth but did not provide such services. The DOJ case, along with a whistleblower lawsuit, also accused the facility of orchestrating a cover-up.
Timothy J. Heaphy, the United States Attorney for the Western District of Virginia, stated in a DOJ press release:
"We intend to prove that these defendants billed Medicaid for providing troubled children with much needed psychiatric medical care when, in fact, they provided no such service. We will not sit idly by and allow healthcare providers to take advantage of troubled children in order to feed their own desire for wealth. The Medicaid system was designed to help the most vulnerable among us, not to line the pockets of fraudsters."
In its statement, UHS claimed that all patients at the Virginia facility were treated appropriately.
But DOJ's conclusions wouldn't surprise current and former UHS employees, who said the hospital and treatment settings have been "depressing" and comparable to prisons or worse.
Leah Mercer, a former employee with the Pines, a residential treatment center located in the Tidewater region of Virginia, described one unit as a "dog pen."
"It's a money making business," Mercer said. She worked not only at the Pines but also at an adult treatment facility in Tennessee. "That's all it is ... Working with adults and the kids in two different states and two different facilities, there was no therapy. It was all about money."
Mercer, who used to work as a prison corrections officer before working with emotionally disturbed children at the Pines, says she was surprised by how little experience was needed to work at the facility. "I know they pull a lot from security people ... You could start out making $10, $11 an hour and not know jack. You didn't have to know anything. In fact, I had a 19-year-old stripper and this was her part-time job -- she was part-time."
HuffPost readers: If you've ever worked for UHS or have been a resident or patient at a UHS facility, we want to hear from you. Tell us your stories by emailing jason.cherkis@huffingtonpost.com. Please include your phone number if you're willing to do an interview.
Santorum joined the UHS board in April 2007. Here is just a sampling of incidents that have taken place at the company's facilities during his tenure:
- In June 2007, Omega Leach, 17, died after being strangled by staff at UHS' Chad Youth Enhancement Center, located outside of Nashville, Tenn. Leach's death was ruled a homicide. Two years earlier, a 14-year-old Long Island girl died at the same facility.
According to the autopsy on Leach, news accounts at the time stated that the youth had "multiple superficial blunt force injuries" to his body as well as injuries to his neck muscles. He also sustained scrapes and bruises to both shoulders as well as a bruise under his left eye.
- In April 2010, North Carolina government records reported that the Old Vineyard Youth Services facility had been the scene of a sexual assault between two male teenagers. One resident reportedly tried to force his roommate "to have oral sex and intercourse holding roommate by neck to force him to have oral sex and dragged him on the floor trying to have intercourse." The residents, 17 and 15 years old, were found to not be adequately monitored by staff. The Winston-Salem Journal had previously reported that the facility had been sited for a "long list of deficiencies that included nurses' training and responses to incidents" in October 2009.
- In September 2010, the Chicago Tribune reported that in the previous two years, two rape allegations were levied at UHS' Hartgrove Hospital. "Police were called to Hartgrove Hospital on the city's West End when a juvenile patient alleged he was punched and forced to perform oral sex on a male patient, then raped when he tried to resist," the reporters noted. "The alleged victim was hospitalized with abrasions consistent with rape, a police report said."
The Tribune went on to detail another incident involving a 13-year-old male who performed oral sex on a 15-year-old in a crowded day room "with roughly 14 other youths and only one hospital employee to monitor them."
- In April 2011, Two Rivers Psychiatric Hospital in Kansas City was barred from taking Medicaid after feds discovered that hospital workers had failed to monitor a suicidal woman who killed herself at the facility. Authorities also ruled that workers had erred in their attempts to revive the woman. The hospital has appealed the decision and challenged the decision in court.
The Kansas City Star also reported that the facility has a history of neglect issues:
"Federal records show that Two Rivers has had a history of patient-care problems dating to 2008, when an Army soldier committed suicide at the hospital by using bed linens to hang himself in a closet.

That year, inspectors also found that a hospital employee had poured water over a patient's head and that a nurse had put a towel over an elderly patient's mouth to stop the patient from screaming.

Inspectors who examined medical records in 2009 found little evidence that Two Rivers patients were receiving psychotherapy or medical treatment other than medications. In September 2010, the hospital refused the emergency admission of a teenager who had threatened to kill someone, records show."
- On April 18, 2011, North Carolina authorities announced that it would be removing all of its wards from The Pines residential treatment center after a youth made an allegation of sex abuse at the facility. The incident triggered a larger investigation. North Carolina officials found multiple instances of ill-trained staff, inadequate staff-to-patient ratios, and "multiple safety risk incidents," according to an email from N.C. authorities to Virginia officials concerning The Pines.
Virginia has since slapped The Pines with a provisional license and halted sending state wards to the facility. The D.C. government has also begun to pull its youths from The Pines.
Susan Lawrence, a parent and child advocate in Virginia, runs a Facebook page dedicated to cataloging abuses within the mental health system with a particular focus on UHS facilities. In an interview, she called on Santorum to investigate the company. "He talks about being brave, about standing up to the establishment," she said. "That's a joke. He should be asking hard questions of UHS ... If he wants to lead the country, he should be able to lead a business."
"He's all concerned about unborn children," Lawrence continued. "He's a lot less concerned about children that are already here."
Santorum's relationship with UHS extends beyond the boardroom. While he served on the board, the company donated $5,000 to his political action committee, America's Foundation, in 2010. UHS CEO Miller, as well as the company's employees, have donated thousands more in previous campaigns.
This is the first in a series of stories on UHS facilities during Santorum's tenure on the hospital chain's board.
Popular in the Community