WASHINGTON -- The news accounts have been consistent: Rick Santorum's stunning triple victory on Tuesday in caucuses in Colorado and Minnesota and a nonbinding primary in Missouri have "upended" the Republican presidential race and "raised fresh questions" about Mitt Romney's "stubborn weakness," his relatively limp support from the conservative GOP base.
While the television networks did not conduct exit polls for Tuesday's contests, survey data from previous primaries and caucuses generally confirm the same troubles for Romney that Santorum's wins spotlit. Less clear is whether those weaknesses clear a path for Santorum to defeat the former Massachusetts governor and win the Republican nomination.
The results in the eight contests so far demonstrate two continuing difficulties for Romney.
The first is his apparent problem with very-low-turnout caucus states. Romney has lost in three of the four caucus states to date, but has won two of the three primaries that did apportion delegates. The caucus states produced turnouts ranging from 1.2 percent of eligible adults in Minnesota to 5.4 percent in Iowa. The primary turnouts have been much higher, varying from 12.8 percent in Florida to 24.9 percent in New Hampshire. The nonbinding primary in Missouri, which Santorum won by a wide margin, produced a turnout (5.7 percent) almost as low as the Iowa caucuses.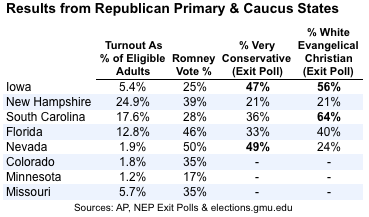 Although we have network entrance or exit polls to examine from only five states, those polls support the notion that the caucus states draw more conservative electorates. The percentage of very conservative voters was much greater in the Iowa (47 percent) and Nevada (49 percent) caucuses than in the first three primaries (21 to 36 percent).
The exit polls also confirm that Romney has a persistent problem with the most conservative Republicans. As the chart below shows, his support in the first five voting states was consistently lower among those who described themselves as very conservative than among those who said they are somewhat conservative, moderate or liberal.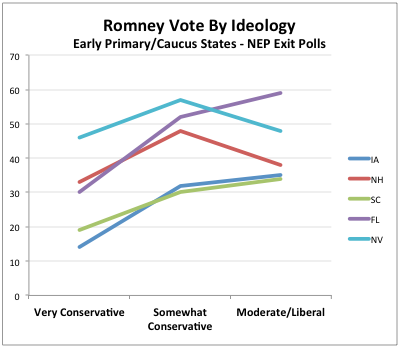 Unfortunately, without entrance or exit polls for Tuesday's contests in Colorado, Minnesota and Missouri, we lack comparable data about the ideological composition of those electorates.
After one great night, the bad news for Santorum is that not many states hold Republican caucuses. Only 12 of the 50 states will choose GOP convention delegates with a caucus system, accounting for just 17 percent of the total delegates.
The second difficulty for Romney revealed by the early contests involves voters who describe themselves in exit polls as born-again or evangelical Christian. As the following chart shows, Romney received consistently less support from white, evangelical Christians than from all other voters. The gaps ranged from a low of 9 percentage points in New Hampshire (Romney won the support of 31 percent of evangelical Christians and 40 percent of all other voters) to a high of 24 points in Iowa (Romney won just 14 percent of evangelical voters compared to 38 percent of other voters).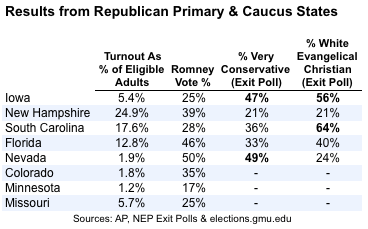 More important is what Guardian blogger Harry Enten noticed: a strong correlation in the first five contests between the percentage of evangelical Christians and the size of Romney's vote. The higher the share of evangelical Christians in the entrance or exit polls, the lower the percentage of the vote that Romney received.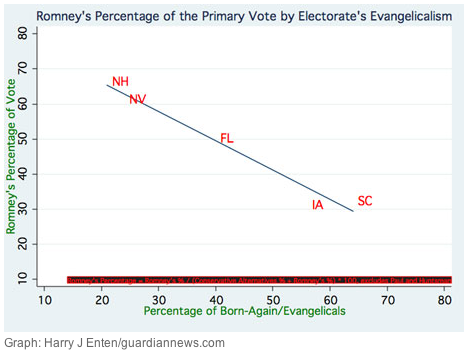 Of course, as Enten pointed out, this pattern is suggestive but not necessarily predictive, since the number of cases is very small and, again, we lack exit poll data to test whether this pattern extended to Colorado, Minnesota and Missouri. (That said, the evangelical percentage in Missouri was likely quite high; in 2008, 55 percent of the state's Republican primary voters identified as evangelical Christians.)
However, RealClearPolitics blogger Sean Trende found a similar, statistically significant relationship between Romney's share of the vote so far and the estimated evangelical percentage of the population at the county level (based on vote returns in 113 counties in the first four contests).
Whether or not Romney's problem with white evangelical Christians persists, the bad news for Santorum is that upcoming contests with large evangelical populations tend to be Southern states where Newt Gingrich continues to run well in pre-election surveys. The following table shows exit poll data from 2008 for most of the primaries coming in late February and March. The percentage of evangelicals was highest in Alabama (68 percent), Tennessee (66 percent), Oklahoma (65 percent), Mississippi (63 percent), Georgia (56 percent) and Louisiana (50 percent).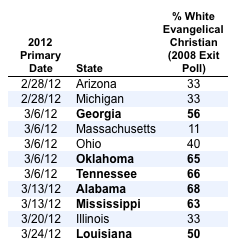 Gallup's national daily tracking poll found that in interviews conducted among Republicans in Southern states from Jan. 30 to Feb 5, Santorum received just 14 percent of the vote, ahead of Ron Paul (10 percent) but still well behind both Gingrich (29 percent) and Romney (33 percent). Similarly, a just released American Research Group poll of Oklahoma, conducted Feb. 6 to 7, finds Gingrich narrowly leading Romney (34 to 31 percent) with Santorum running far behind (16 percent).
Ultimately, Romney could lose a series of Southern primaries and other caucus states and still win a majority of the convention delegates. Should Santorum emerge (or Gingrich re-emerge) as a strong challenger, the outcome will likely be determined by delegate-rich contests in states like Ohio, Illinois, Pennsylvania and, if necessary, California, many of which are winner-take-all either statewide or within individual congressional districts. And with Gingrich and Santorum remaining in the race, both will struggle to build the base of support necessary to overtake Romney in those key battleground races.
Rick Santorum shook up the Republican race with his victories on Tuesday, but barring a total collapse of support for Gingrich, it is hard to see Santorum's path to the nomination.
CORRECTION:The table in an earlier version of this story misstated Mitt Romney's percentage of the vote in Missouri as 35 percent. Romney won 25 percent of the Missouri vote.
Popular in the Community