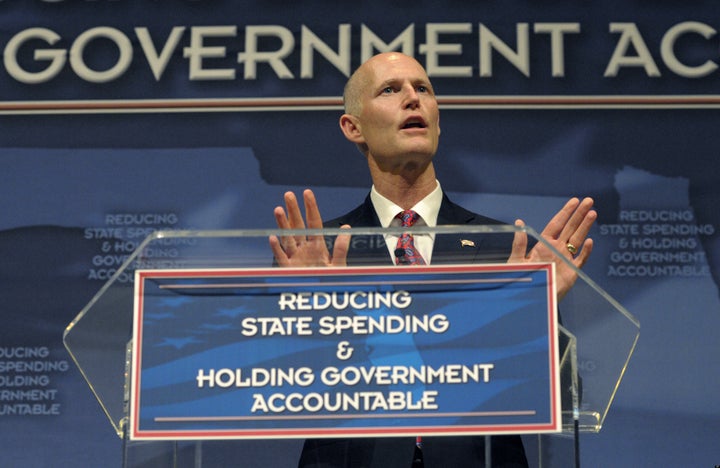 Right now, we're in an extended period where the people who everyone presumes to be running for president in 2012 are delaying their official entry into the race. Until that changes, we're going to persist in a state where the GOP field is considered to be "weak" and needful of a masked stranger to ride to its rescue. And so, a lot of the Republicans who have retained some of their "so hot right now" sheen from 2008 are going to be the subjects of 2012 speculation, even if they've only been in their new positions for a few weeks. Today's speculative candidate? Florida's fraudster-king governor, Rick Scott.
"Is Fla. Gov. Rick Scott planning a 2012 presidential run?" is the question posed in the headline of this piece from the Miami Herald. And after you've read it, you will probably conclude that the answer is: "Uhm, no!" Here is the basis for the speculation, in its entirety:
-- Rick Scott "acknowledge[s]" that "he's still in campaign mode," whatever that means.
-- Scott has "beefed up the Washington, D.C., extension of the governor's office by hiring former health care lobbyist Brian McManus, an ally of Scott's Conservatives for Patients' Rights group." Also, some other guy, his "external affairs director," might come to D.C., too. (The better to conduct "external affairs," perhaps?)
-- Scott has made "frequent appearances on FOX News."
The piece also gets a spokesman from the Florida Democratic Party named Eric Jotkoff to quip, "I wouldn't be shocked to wake up one morning and see he has planned visits to Iowa and New Hampshire." But that's not really as important as the premise-defeating piece of reporting here, which reads: "Scott has denied interest in the White House, saying he wants to seek a second term."
Calling all HuffPost superfans!
Sign up for membership to become a founding member and help shape HuffPost's next chapter