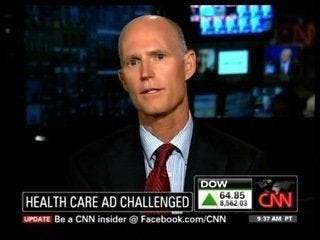 Mark Don Givens told Florida's WTSP News that he was expecting a paycheck after he made phone calls and knocked on doors for the Scott campaign, which made jobs a top issue in the election. Givens said he and other workers were upset after they were told by the campaign that they could not offer them a paycheck and given American Express gift cards instead.

"This would violate both tax laws and labor laws," Melanie Sloan, the Executive Director of Citizens for Responsibility and Ethics in Washington (CREW) told TPMmuckraker in an email. "It looks like the newly elected AG will be investigating the newly elected governor.
Was this some sort of ornate plan to stimulate the local economy? Well, according to Reilly, the Scott campaign maintains that there was some sort of "issue" getting checks to these workers, which is odd, given that Scott is a crazy-rich grifter king who self-financed his own bid for the statehouse. Maybe Scott is a re-gifter? If so, that's tres gauche.
At any rate, Givens has planned to "go Democrat," which is great news for Democrats' 2012 hopes, obviously! Still, while this is destined to become a worn-out phrase, it must be asked: What were you expecting when you went to work for Rick Scott?
Popular in the Community