Florida Gov. Rick Scott (R) refused to say whether he believes man-made global warming is real Tuesday, despite having said in the past that he doesn't believe in it.
The Miami Herald reports that during a stop in Miami Tuesday, a reporter asked Scott whether he thinks man-made climate change "is significantly affecting the weather, the climate."
"Well, I'm not a scientist," the governor replied, trying to switch the subject to what his administration has done to respond to flooding.
Scott hasn't always been so shy about giving his views on this issue.
When asked by the Tampa Bay Times in 2010 whether he believes in climate change, Scott replied, "No."
"I have not been convinced," he said.
In 2011, he similarly said, "I've not been convinced that there's any man-made climate change. Nothing's convinced me that there is."
When pressed by reporters Tuesday on the seeming change in his position, Scott again tried to avoid the matter. From the exchange, posted by the Miami Herald:
Q: In 2011 or 2010, you were much more doubtful about climate change. Now you're sounding less doubtful about man-made climate change because now you're not saying 'Look, I doubt the science.' Now you're saying: 'I'm not a scientist.' Am I right in guessing that?

Scott: "Well, I'm not a scientist. But I can tell you what we've accomplished. We put a lot of effort into making sure that we take care of our natural treasures -- the Everglades, making sure water flows south, any flooding around our coast. So we're doing the right thing."

Question (asked by citizen-activist): So do you believe in the man-made influence on climate change?

Scott: "Nice seeing you guys."
Scott also used the "I'm not a scientist" line earlier this month when asked whether he was worried that rising sea levels posed a threat to his coastal home.
"No," he replied. "I'm not a scientist but I can tell you what, we're going to make sure we continue to make the right investments in the state to take care of our environment. We love living here."
In 2012, Sen. Marco Rubio (R-Fla.) was widely mocked when he said, "I'm not a scientist, man," in response to a question about how old the earth is.
Scott is facing a challenge from former governor Charlie Crist, who is now a Democrat, who has said that global warming is "one of the most important issues that we will face this century."
Question by SharkTank blog: "Gov. Scott it's very hot in here. Does that have anything to do with global warming considering Charlie Crist's position is that global warming exists. What is your take on global warming or climate change."

Scott: "I'm not a scientist but we are going to make sure we take care of our environment." Scott then talked about funding for the coasts, Everglades and springs but didn't address climate change.
Before You Go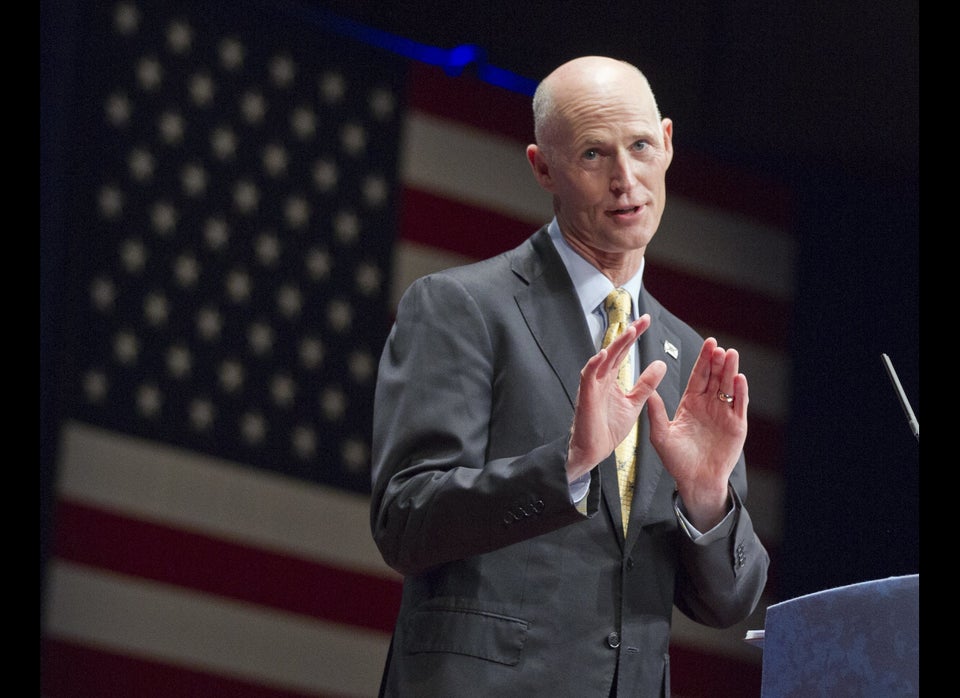 Rick Scott Controversies
Popular in the Community