Florida's second gubernatorial debate got off to a bizarre start Wednesday evening when incumbent Gov. Rick Scott (R) initially refused to debate his opponent because he had a fan under his lectern.
Democratic candidate Charlie Crist, the former Florida governor hoping to unseat Scott in next month's election, had a small electric fan placed under his lectern. This, Scott's campaign claimed, violated the debate's "no electronics" rule.
"Ladies and gentlemen, we have a an extremely peculiar situation right now," debate moderator Elliot Rodriguez of CBS Miami told the crowd, as the camera panned to two empty lecterns onstage. Seconds later, Crist walked onstage, but Scott was absent.
"We have been told that Governor Scott will not be participating in this debate," Rodriguez explained. "Governor Crist has asked to have a small fan placed underneath his podium. The rules of the debate that I was shown by the Scott campaign say that there should be no fan. Somehow there is a fan there, and for that reason, ladies and gentlemen, I am being told that Governor Scott will not join us for this debate."
Members of the audience booed loudly.
"That's the ultimate pleading of the Fifth I've ever heard in my life," Crist said.
"Do the rules of the debate say that there should be no fan?" panelist Rosemary Goudreau, a Sun Sentinel editorial board member, asked Crist.
"Not that I'm aware of," he replied.
Rodriguez, however, maintained that Scott's campaign had shown him a copy of the rules specifying that there would be no fans allowed.
While the panelists chatted about the oddity of the situation, Florida's press corps lamented the state of affairs:
Scott eventually agreed to come on stage, and the debate proceeded as planned. As Craig Patrick of Fox 13 noted, Scott held up the debate for nearly eight minutes.
Watch the exchange above.
It was not immediately clear why Scott didn't want to appear on stage with Crist and his fan. But the specter of 1960 debate between John Kennedy and Richard Nixon likely loomed large. At that history-making matchup, Kennedy shot above Nixon by seeming cool, collected and presidential. Nixon, on the other hand, appeared sweaty and sickly.
At that time, Nixon, too, probably would have liked a fan.
Before the debate was over, Crist's campaign had begun fundraising off the "fangate" incident in an email to supporters: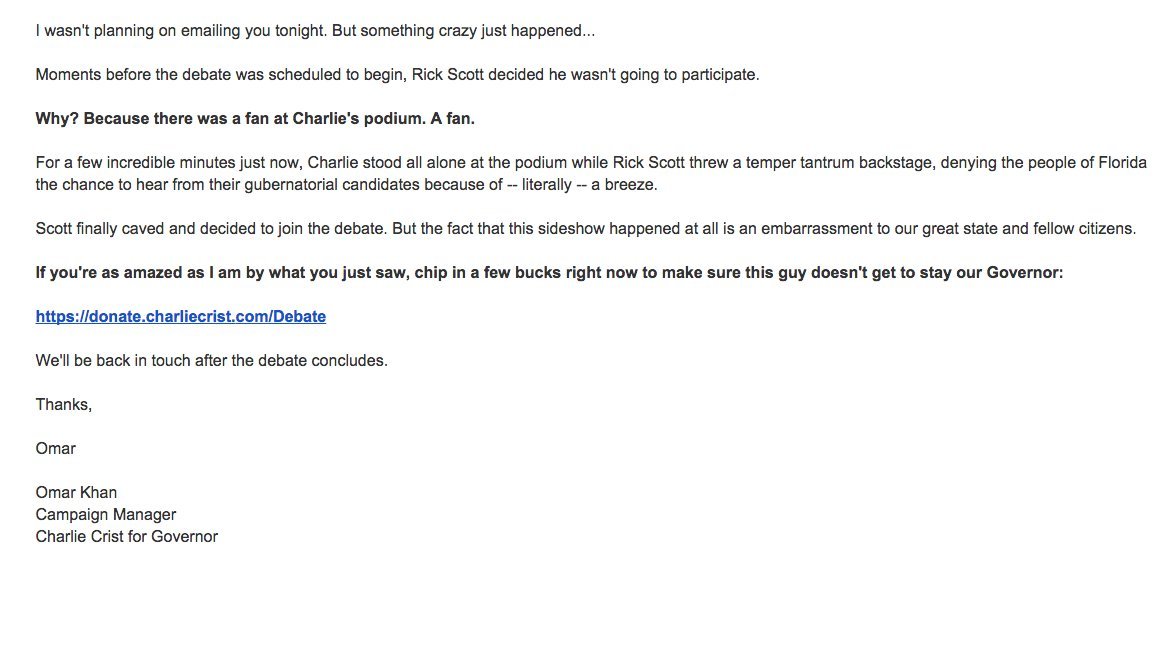 When asked for comment, the Scott campaign's deputy communications director, Greg Blair, referred The Huffington Post to a copy of the debate rules, which specified that candidates "may not bring electronic devices (including fans)" to the debate.
Kevin Cate, a Crist adviser, countered with this:
Scott campaign manager Melissa Sellers later offered a statement to The Huffington Post.
"Charlie Crist can bring his fan, microwave, and toaster to debates - none of that will cover up how sad his record as governor was compared to the success of Rick Scott," Sellers said. "Crist should buy a fan for the 832,000 Floridians who lost their jobs while he was governor."
Amanda Terkel contributed reporting.
This article has been updated to include comment from both campaigns.