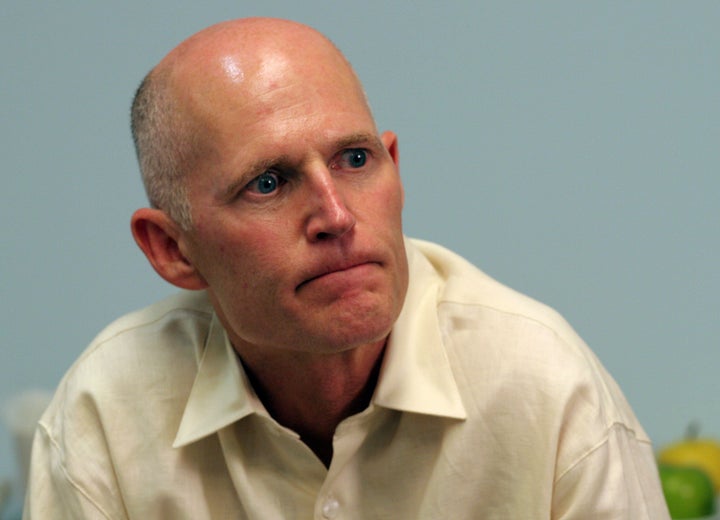 Republican lawmakers in several states have expressed interest in copying Florida's law that drug tests welfare recipients in an attempt to save money. But the federal judge who halted the scheme Monday on constitutional grounds ridiculed a conservative think tank's estimate of the law's savings.
"Though the State offers, as evidence of the cost savings, a pamphlet from the Foundation for Government Accountability," U.S. District Judge Mary Scriven wrote in her order, "the data contained in the pamphlet is not competent expert opinion, nor is it offered as such, nor could it be reasonably construed as such."
The Sept. 14 pamphlet said the new law, which took effect in July, had already saved the state nearly $1 million. While only nine people actually flunked the test in the program's first two months, 565 went through every step of the application process but were denied benefits because they declined to take the test. If each such "drug-related denial" saved the state $1,600 in welfare costs for that applicant, that comes to roughly $923,000 in annual savings, according to the Foundation's arithmetic.
But there's no reason to assume each person who declined to take the test did so in fear of a positive result, Scriven wrote. Since the law required applicants to pay for their own tests, what if some of them couldn't afford the $30 cost? What if some of them considered it a violation of their rights?
And about that arithmetic: "These 'non-testers' cannot be reasonably counted as providing twelve months of savings, or so-called 'annualized savings,' because they are otherwise eligible and can begin receiving benefits at any point during the year by submitting a new application and a negative drug test," Scriven wrote. "Even as to those 2 percent of applicants who are known drug users, 'annualized savings' calculations inflate the claimed savings because those applicants do not have to forego an entire year of TANF assistance but may reapply after 6 months."
Scriven concluded the state "has not demonstrated any financial benefit or net savings will accrue as a result" of the law.
Tarren Bragdon, director of the Florida-based Foundation for Government Accountability and author of the report, has major beef with Scriven's characterization of his work.
"I just think judge Scriven's opinion clearly reflects her disdain for welfare accountability," Bragdon told HuffPost. "Throughout my entire public policy career, I've never come across Judge Scriven's name on any article, study, or report on welfare. So my question for her is, what credentials does she have to question my competency as a researcher?"
Though Bragdon's reports strongly imply applicants who decline to take drug tests do so because they're on drugs, he acknowledged in an interview there's really no way to know: "Obviously you can't determine what is the reason somebody doesn't take a test."
Another reason not to extrapolate annual savings from skipped drug tests is that the average welfare recipient receives money for just 4.5 months, according to the state Department of Children and Families. The shorter duration is reflected in Bragdon's most recent report, which also includes a more accurate per-month benefit of $250 instead of $130. The report says the law "has led to a dramatic 48 percent drop in monthly approvals, an overall drug-related denial rate of 19 percent, and almost $1.8 million in savings to taxpayers."
Bragdon's report says the state has only paid out $57,000 in reimbursements to applicants who passed the test, even though more than 7,000 people have done so. If each is repaid as they're supposed to be, reimbursements should run roughly $210,000. Previous back-of-the-envelope estimates have suggested the program's reimbursement costs could nearly outstrip its savings.
Just 2.5 percent of welfare applicants had dirty urine during the brief lifespan of Florida's drug screening program -- a lower rate of drug use than for the general population. Regardless, more than two dozen other states are considering similar proposals for welfare and other government benefits.
Oklahoma state lawmakers pushing welfare drug tests specifically cited Bragdon's analysis, calling Florida's initiative "a huge success in just its first two months." Bragdon said he's heard from legislators in Rhode Island and Arizona as well.
A spokesman for Florida Gov. Rick Scott (R), a strong proponent of the drug tests, did not respond to a request for comment.
A Scott spokesman previously told HuffPost that saving money was secondary to making sure welfare dollars benefited children and not drug users.

Popular in the Community