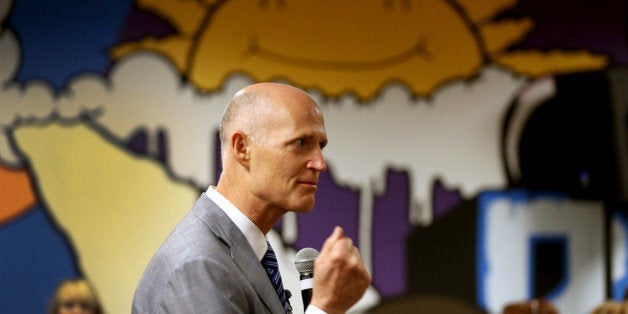 TAMPA -- Florida Gov. Rick Scott is broadening the central message of his re-election campaign: Beyond claiming responsibility for Florida's recovery from the Great Recession, he now blames the downturn on his predecessor and likely 2014 opponent, Charlie Crist, and former Chief Financial Officer Alex Sink.
Sink and Crist scoff at Scott's claims, which don't pass muster with economic experts, either.
"Poppycock" was Sink's response; David Denslow, retired University of Florida economist, called Scott's contentions "without empirical foundation."
Scott has made his campaign message clear, before the race gets underway, in repeated speeches and daily news releases: He contends that onerous state taxes and regulations in place before he took office caused Florida's job losses, and his own pro-business governing formula of lower taxes and cutting regulations has pushed Florida's recovery ahead of the nation's.
Economic data don't back that up.
Economists say national economic policies and the business cycle have far more influence on the state's economic condition than local or state tax or regulatory policies. They also say Florida doesn't appear to be recovering faster than the rest of the country.
The state is recovering, but it still trails national averages in growth of personal and per-capita income and growth of its domestic product. Drops in the unemployment rate have occurred largely because workers have stopped looking for work, according to the state Legislature's Office of Economic and Demographic Research.
Still, there's evidence Scott could make political headway with his argument, fueled by the scores of millions he plans to spend to push his message during his campaign.
At least one poll indicates voters may give state officials more credit than the federal government if the economy is going well, or blame state officials more if it's going badly.
In Quinnipiac University Polling Institute surveys in early 2012, voters who thought the economy was improving gave Scott more credit than President Barack Obama, by large margins. Those who thought the economy wasn't improving blamed Scott more than Obama.
If Florida's recovery continues, that suggests Scott could benefit politically.
Quinnipiac spokesman Peter Brown, however, said the poll "should certainly be taken with several grains of salt," because only those who thought the economy was improving or getting worse -- just half the respondents -- were asked the question.
In at least two recent speeches, Scott has said Florida should have been immune to the global economic meltdown that began in 2008.
"We never should have had that downturn," Scott said in Tampa on Wednesday to highlight expansion of a health insurance services firm.
"We shouldn't have lost those 832,000 jobs before I became governor," he told reporters after another recent appearance.
"If you think about our country where all of our states are competing for jobs, we're a state that has no income tax ... we're a right-to-work state, no business tax, we've got the expansion of the Panama Canal, the gateway to Latin America, so if you think about that, we shouldn't have had that downturn," he said.
Asked what his predecessors did to cause it, Scott didn't answer. Instead he repeated his campaign message that before he took office, Florida lost hundreds of thousands of jobs, and some have since returned.
The Republican Party of Florida, which acts as a campaign surrogate for Scott, has made the charge more explicitly. "The Crist-Sink Team Lost 832,000 Jobs From January 2007 To January 2011," it said in a June news release, referring to a time when Crist was governor and Sink was state chief financial officer. Sink, whom Scott defeated to win office, was considering another run until she dropped out Friday.
But Denslow and other economists said Florida was a victim of the national financial collapse and blowup of the housing market. Other states with no income tax and right-to-work laws also suffered, he noted, and the Panama Canal expansion won't be completed until 2014.
"We couldn't have escaped," he said.
Economists mostly agree on the causes.
"The collapse of the housing bubble -- fueled by low interest rates, easy and available credit, scant regulation and toxic mortgages -- was the spark," said the 2011 report of the congressional Financial Crisis Inquiry Report on the crash.
Economist Sean Snaith of the University of Central Florida said the housing collapse and failure of securities backed by sub-prime mortgages "dried up housing financing and seized up financial markets. That was a global phenomenon. Trillions of dollars of wealth were just wiped away.
"No state could have been sheltered from events of that magnitude, let alone Florida, where the housing market was such a big part of the economy," Snaith said.
Crist's response to Scott's charges: "Just as I will not take credit for the global economic meltdown, I don't think the current governor should take credit for the recovery."
"This is utter nonsense. The idea that anything other than greed and fraud caused the global economic recession is just wacky."
Sink said her jaw "dropped to the floor" when she heard Scott's charge.
"This is a guy who claims he's a businessperson and he doesn't understand econ 101," she said. "When you have an economy like Florida that is so reliant on tourism, retirees and real estate, there is no control of our own economic future."
Florida's economic picture has improved in the last year. As Scott noted in an announcement Friday, the state's unemployment rate dropped to 7 percent in August and has been lower than the national rate for six months. But Florida isn't setting the pace for national recovery, according to studies by economists including those working for the state:
In 2012, the state had its third straight year of growth after two years of decline. But its 2.4 percent growth was below the national average of 2.5 percent, according to the state Office of Economic and Demographic Research.
Personal income grew 3.2 percent in 2012 -- less than the national rate of 3.5 percent -- and dropped 1.5 percent in the first quarter of 2012, ranking the state 39th.
Scott has repeatedly said Florida's unemployment rate had dropped more than any state in the nation while he was governor, from a high of more than 11 percent when he took office to 8.8 percent in late 2012. But most of that decline, the state economists said, was due to people dropping out of the labor force.
As of June, 2012, Florida had recovered only 13.5 percent of the jobs it lost in the Great Recession, while in the nation as a whole, the recovery rate was 34.6 percent, according to The State of Working Florida 2012, a report by Florida International University economists.
The FIU report also found that Florida ranked third in the nation in the number of workers forced to work part-time instead of full-time.
(c)2013 the Tampa Tribune (Tampa, Fla.)
Distributed by MCT Information Services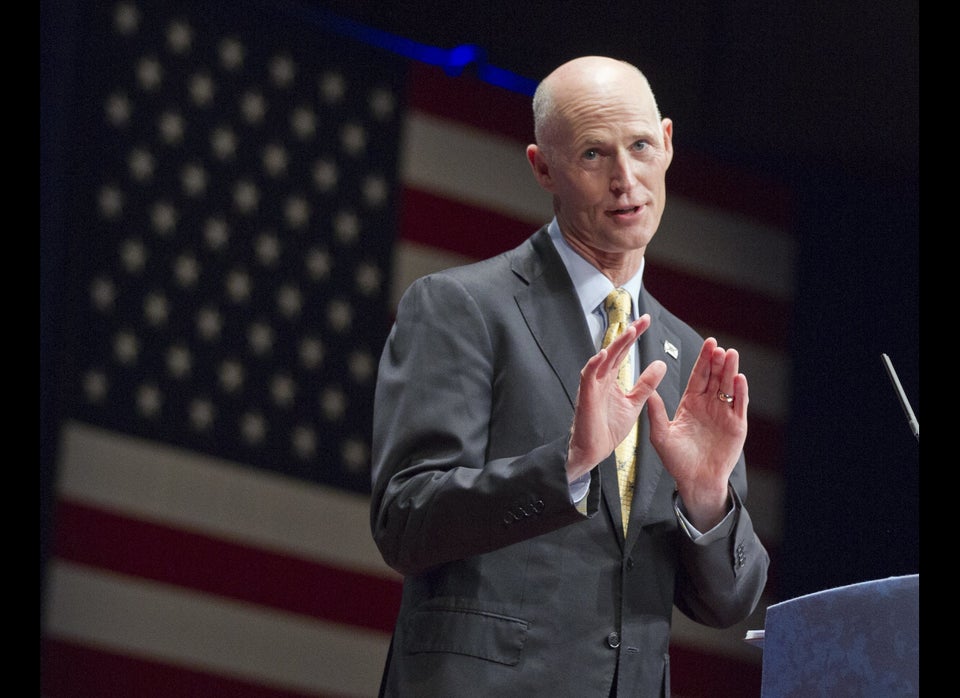 Rick Scott Controversies
Popular in the Community