Florida Gov. Rick Scott (R) announced Wednesday that he will appeal a federal judge's order forcing the state to come up with a new system for restoring voting rights to former felons.
Florida permanently strips people with felony convictions of the right to vote. The only way they can get the right restored is by appearing before a panel consisting of the governor, attorney general, agriculture commissioner and chief financial officer and applying for their rights back. U.S. District Judge Mark Walker ruled in January that the process was unconstitutional because it gave the state officials unfettered discretion in when to restore voting rights. On March 27, Walker gave the state until April 26 to come up with a new system.
In a Wednesday court filing, Florida state lawyers said Scott intends to appeal the decision to the 11th U.S. Circuit Court of Appeals and asked Walker to pause his order to come up with a new system while the appeal was pending. In a court filing, lawyers for Florida Attorney General Pam Bondi (R) expressed confidence that the appeals court would overturn the lower court ruling and that the plaintiffs in the case had failed to show Florida's system was discriminatory or unconstitutional.
"People elected by Floridians should determine Florida's clemency rules for convicted criminals, not federal judges," John Tupps, a Scott spokesman, said in a statement. "This process has been in place for decades and is outlined in the both the U.S. and Florida Constitutions."
Walker denied the request from Scott and his lawyers on Wednesday and issued another rebuke of the state.
"Defendants' arguments, to put it mildly, are unpersuasive," he wrote. "The stay motion is littered with other astounding arguments that fail to outline substantial likelihood on the merits or irreparable harm to any party. For example, this Court is left scratching its head when considering how its order directing Defendants to comply with the Federal Constitution impinges on state sovereignty."
Scott, Walker wrote, is now free to seek a stay from the 11th circuit, but he wanted to rule quickly so that the state couldn't delay coming up with a new scheme.
"This Court does not play games. This Court is not going to sit on Defendants' motion and run out the clock," he wrote.
Lawyers for the Fair Elections Legal Network, the Washington, D.C., group representing the plaintiffs, said state officials had long had an opportunity to reform the state's system while the litigation was pending.
"Though it is the Board's legal right to appeal, their continued resistance to adopting any uniform, non-arbitrary system for restoring voting rights betrays a brazen disregard, if not disdain, for basic principles that go to the heart of our democracy," the lawyers said in a statement.
Over 6.1 million people in the United States are disenfranchised because of a felony conviction, and about a quarter of that population lives in Florida, according to a 2016 report from The Sentencing Project.
Florida's clemency board only meets quarterly and the process felons must go through for getting their voting rights restored is long. When he became governor, Scott implemented new rules requiring felons who had completed their sentences to wait at least five years to apply to have their rights restored. There are currently more than 10,000 cases pending, and the board only hears fewer than 100 cases each time it meets, according to the Tampa Bay Times.
Walker's assessment of Florida's system was scathing. He wrote that Florida's system for choosing which felons got the right to vote back was "worse than a coin flip." He noted the board had been more favorable in some cases to those who had conservative views than those who had not, a violation of the First Amendment's guarantee of free speech and the 14th amendment's guarantee of equal protection under the law.
Separately from the case, Florida activists are pushing a ballot measure to amend the state constitution to automatically restore voting rights to felons once they complete their entire sentences. The measure will need 60 percent of the statewide vote to pass in November.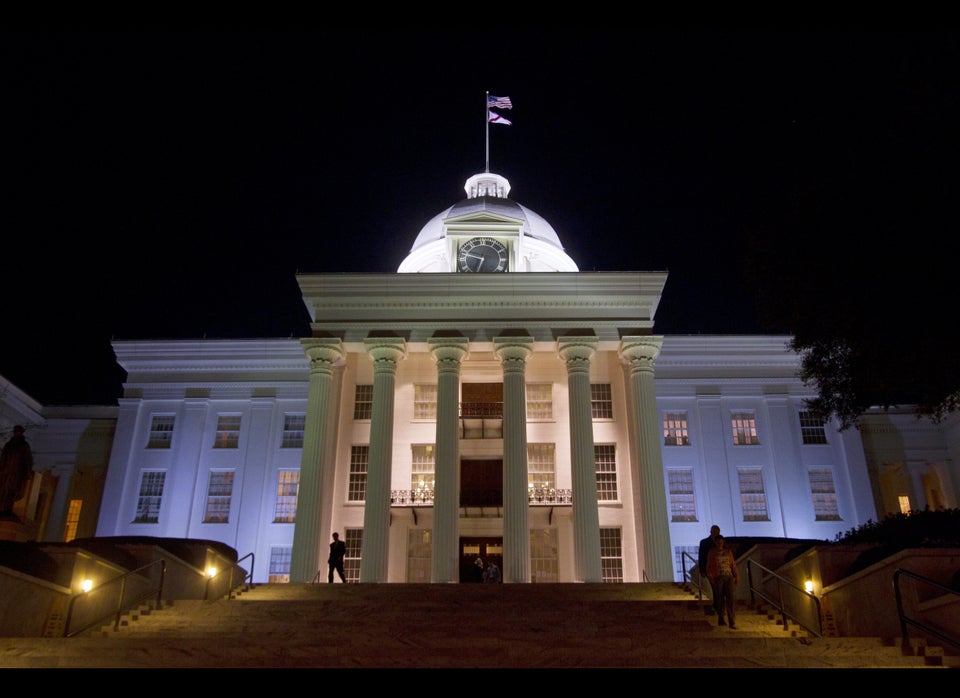 U.S. State Capitol Buildings