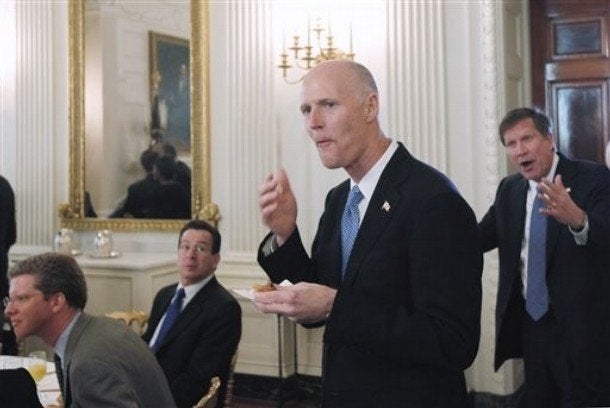 The story has been updated.
WASHINGTON -- A controversial bill targeting public unions in Florida appears headed for failure, despite a last-minute lobbying effort by Republican Gov. Rick Scott (R).
The legislation, SB 830, would prohibit state and local governments from automatically deducting union dues from employees' paychecks. Union members would also have to give written consent before their dues are used for political purposes.
According to a report in the Miami Herald, Scott made rare personal visits to the offices of four Republican state senators and pleaded with them to support the measure on Wednesday. All of them, however, were unpersuaded.
"I'm a conservative Republican," said Charlie Dean, one of the senators who met with Scott. "I support the governor and I support the president and speaker. But I also reserve the right somehow to make up my own mind."
Dean aide Kevin Sweeny further told The Huffington Post that the senator objected to the fact that the bill only singles out public employee unions for making automatic paycheck deductions. Indeed, in Florida, there are 364 groups or agencies that can take money out of employees' wages for charitable donations, life insurance, taxes and other deductions. Thrasher's bill, however, focuses only on union dues.
"[Sen. Dean's] main objections are that he doesn't believe it's his money to say; it should be left alone," said Sweeny. "What he would really like to see is if we're going to take away the option for the state to take the money out of the checks, we should do it across the board."
After meeting with Scott, one of the other GOP senators, Miguel Diaz de la Portilla, said of the bill, "It creates division and turmoil, and doesn't create jobs."
In an interview with The Huffington Post, state Sen. Rene Garcia (R) confirmed that he met with Scott on Wednesday and reiterated that he would be opposing the bill. He said he had heard from many of his constituents who were union members and wondered why the legislature was targeting them rather than going after all automatic deductions.
"If we weren't a right to work state, I might have been more inclined to vote for it," he said. "But this is a right to work state, and people aren't forced to join a union. People can opt in and opt out of a union whenever they want. That's my main reason for voting against this bill."
Lane Wright, Scott's press secretary, explained in an email to The Huffington Post that Scott supports SB 830 "because he believes union workers should have a right to know how their union dues are being spent."
Labor unions have been actively organizing against SB 830, as well as an executive order by Scott that would mandate random drug tests of state employees and a proposal to privatize Medicaid.
"There's a group of concerned Republican legislators who have heard from their constituents that they don't like this," the source added. "This is not creating jobs. The governor is wildly un-liked. His poll numbers are absolutely atrocious."
The bill's sponsor, state Sen. John Thrasher (R) did not return a request for comment.
SB 830 was on the legislative calendar on Wednesday but delayed for supporters to shore up votes. It's also on the calendar for Thursday, although it's not expected to move anywhere without significant changes.
"This legislation is, at this point in time, for all intents and purposes, completely stalled," said the labor official. "We won't call it dead, simply because there is a Republican supermajority. For that matter alone, I won't call anything dead until the gavel goes down on the final day of the legislature."
UPDATE: 4/29/11 -- Florida AFL-CIO President Mike Williams said in a statement that despite Senate Republicans stating their opposition to the current version of SB 830, the bill is "still very much alive in the Florida Legislature." The Miami Herald reports that there are now "amendments in the House and Senate on a slew of bills that impose the same restrictions on unions and require that they get annual written permission from every member to use dues for political purposes."
Popular in the Community